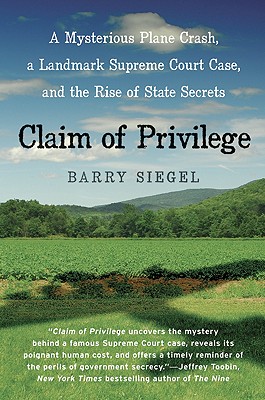 Claim of Privilege (Paperback)
A Mysterious Plane Crash, a Landmark Supreme Court Case, and the Rise of State Secrets
Harper Perennial, 9780060777036, 400pp.
Publication Date: June 9, 2009
Other Editions of This Title:
Hardcover (6/1/2008)
* Individual store prices may vary.
Description
On October 6, 1948, a U.S. Air Force B-29 Superfortress crashed soon after takeoff, killing three civilian engineers and six crew members. In June 1949, the engineers' widows filed suit against the government, determined to find out what exactly had happened to their husbands and why the three civilians had been on board the airplane in the first place. But it was the dawn of the Cold War and the Air Force refused to hand over any documents, claiming they contained classified information. The legal battle ultimately reached the Supreme Court, which in 1953 handed down a landmark decision that would, in later years, enable the government to conceal gross negligence and misconduct, block troublesome litigation, and detain criminal suspects without due-process protections.
Claim of Privilege is a mesmerizing true account of a shameful incident and its lasting impact on our nation—the gripping story of a courageous fight to right a past wrong and a powerful indictment of governmental abuse in the name of national security.
About the Author
The author of five previous books and winner of the 2002 Pulitzer Prize for Feature Writing, Barry Siegel is a former national correspondent for the Los Angeles Times. He now directs the literary journalism program at the University of California, Irvine, where he is a professor of English. He lives in Los Angeles.
Praise For Claim of Privilege: A Mysterious Plane Crash, a Landmark Supreme Court Case, and the Rise of State Secrets…
"Barry Siegel's Claim of Privilege uncovers the mystery behind a famous Supreme Court case, reveals its poignant human cost, and offers a timely reminder of the perils of government secrecy."
— Jeffrey Toobin, New York Times bestselling author of THE NINE