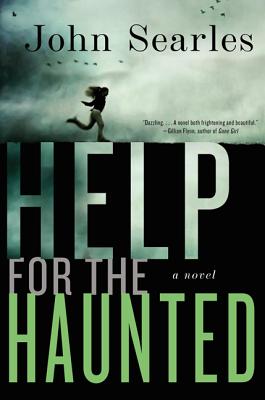 Help for the Haunted (Hardcover)
A Novel
William Morrow, 9780060779634, 368pp.
Publication Date: September 17, 2013
Other Editions of This Title:
Digital Audiobook (9/16/2013)
Paperback (7/15/2014)
Paperback, Large Print (9/17/2013)
* Individual store prices may vary.
Description
John Searles's Help for the Haunted is an unforgettable story of a most unusual family, their deep secrets, their harrowing tragedy, and ultimately, a daughter's discovery of a dark and unexpected mystery.
Sylvie Mason's parents have an unusual occupation—helping "haunted souls" find peace. After receiving a strange phone call one winter's night, they leave the house and are later murdered in an old church in a horrifying act of violence.
A year later, Sylvie is living in the care of her older sister, who may be to blame for what happened to their parents. Now, the inquisitive teenager pursues the mystery, moving closer to the knowledge of what occurred that night—and to the truth about her family's past and the secrets that have haunted them for years.
Capturing the vivid eeriness of Stephen King's works with the compelling quirkiness of John Irving's beloved novels, Help for the Haunted is that rare story that brings to life a richly imagined and wholly original world.
About the Author
John Searles is the author of the bestsellers Boy Still Missing and Strange but True. He appears as a book critic on NBC's Today Show, and his essays have been published in the New York Times and Washington Post. He has a master's degree in creative writing from New York University and lives in New York City.
Praise For Help for the Haunted: A Novel…
"John Searles wrapped a ghost story inside a mystery, and the result is a worthy thriller...HELP FOR THE HAUNTED's alternating chapters are cleverly split in time to reveal what came before and after a deadly tragedy at the heart of this captivating story."
— Minneapolis Star Tribune

"The perfect Halloween read for those with a taste for haunted basements, creepy always-smiling dolls, and weirdly dysfunctional families...Searles brings the torture of adolescence, the scourge of notoriety, and the pain of being young and different vividly to the page."
— Boston Globe

"A dazzling, dark portrait of a troubled family beset by the supernatural. Searles ratchets up the tension with every passing chapter, and delivers authentic and well-earned scares--all written through the lens of a lonely teenager searching for answers. The result is a novel both frightening and beautiful."
— Gillian Flynn

"Creepy, disturbing and compelling, with well-drawn characters, this is gothic suspense at its finest."
— Statesman Journal (Oregon)

"[Searles] has crafted a strange, spooky world that is absolutely believable. Sweet, precocious, desperate Sylvie is a memorable young striver in the tradition of Scout Finch, and HELP FOR THE HAUNTED is an exceptional piece of storytelling."
— Washington Post

"A poignant story of a family, of parents navigating an odd and dangerous career, of daughters shaken by doubt and loss and grief — and the gulf that widens between them all...A compelling mystery."
— Miami Herald

"A rich and tense suspense story that serves up plenty of genuine thrills but also moves the reader with elegant insights into the enigma that is Family."
— Khaled Hosseini, bestselling author of And the Mountains Echoed and The Kite Runner

"A masterful genre mash-up that's part paranormal thriller, part coming-of-age story, part crime fiction, Searles' eerie novel about a young girl uncovering the mystery of her parents' murders builds to a stunning and poignant conclusion."
— Entertainment Weekly

"Readers of this unsettling coming-of-age story from Searles may feel the need to whistle past the graveyard at the end...[Events] unfold in nonlinear fashion, keeping the reader on edge while Sylvie bravely uncovers her family's many secrets."
— Publishers Weekly (starred review)

"A truly creepy, smart psychological thriller that will keep readers turning pages until the very end. Highly recommended."
— Library Journal (starred review)

"The family demons are more troubling than the supernatural ones in John Searles' new novel...Sylvie's flashbacks and exploration of her mom and dad's relationship will haunt readers' hearts after they turn the final page."
— USA Today

"[Searles'] new release about a young girl whose parents are self-proclaimed 'saviors of haunted souls,' his his most engrossing yet."
— People

"Disturbingly engrossing."
— People

"Searles really cranks up the suspense...A real page-turner."
— School Library Journal (starred review)

"[HELP FOR THE HAUNTED] is no simple ghost story...As the story zips back and forth through time, it's rarely clear what's real and what's not, though one thing is for sure: The "literal" bedevilment the Masons cast from other houses is nothing compared to what's in their own."
— Chicago Magazine

"An expertly-wrought, coming-of-age story with a healthy dose of creepiness."
— Amazon.com, "Best Book of the Month"

"Heart-thumping...nearly impossible to put down."
— Cleveland Plain Dealer

"Moving and elegantly constructed...both a suspenseful page turner and a provocative look at what it means to be haunted."
— Columbus Dispatch

"Searles expertly manages his cleverly conceived plotline as he alternately withholds and doles out key information in tantalizing fashion... Superlative storytelling."
— Booklist (starred review)

"A quickly paced and boldly rendered ghost story, Searles's dark novel about a young girl haunted by the murder of her parents had me up reading all night. And checking the doors. I found it impossible to put down."
— Sara Gruen, bestselling author of Water for Elephants and Ape House

Searles successfuly jumps back and forth in time to let these stories unfold, sewing clues and strange details along hte way...A somber, well-paced journey, wrappe din a mysery, that will keep readers guessing until the revealing conclusion.
— Kirkus Reviews

"I was completely consumed by Help for the Haunted; I read it in one sitting. I just can't decide what I loved the most: its perfectly pitched teenage narrator; the ghost story that kept me riveted; the thriller that made me say, Oh, just one more chapter."
— Jodi Picoult, New York Times-bestselling author of Lone Wolf and The Storyteller

"This is edge-of-your-seat reading of a very high quality, and, be warned, it is seriously spine-tingling."
— Robert Goolrick, bestselling author of A Reliable Wife

"Wonderful...A coming of age tale that is poignant and touching...and will scare the living hell out of you. I loved every page of this novel: I loved the sisters and the story and the page-turning mystery. I just may never go downstairs into my basement again."
— Chris Bohjalian, bestselling author of Midwives and The Light in the Ruins

"[Searles] has a distinct talent for fashioning chilling, thrilling novels."
— New York Daily News

"Searles is a top-notch storyteller. He sets a mood of unease that builds up to a sense of dread... It's hard to stop reading."
— Charlotte Observer

"Involves both classic horror elements (a malevolent rag doll, a stolen diary, a hatchet, a scary basement) and contemporary ones (a prescription for Vicodin). Searles controls the plot with a sure hand and wraps up the situation on Butter Lane in a satisfying and believable way."
— New York Newsday

"A bold, suspenseful, all-consuming ghost story."
— Publishers Weekly

"Full of terror, totally compelling, believable, and ghostly chilling...The horror that stocks this page-turner is so adroitly grounded in things ordinary and real that the reader almost suspends disbelief and comes to think that maybe there are malevolent spirits out there."
— NPR
Book Videos
After her parents' death, Sylvie learns from Father Coffey that her family was driven out of the church by rumors and gossip. But the Masons were very devout. How does the tension between their faith and their unusual activities play out? In what ways do the intersections of these two forces make sense?
When speaking in Ocala, Sylvester says he investigates "the otherness" of the world we live in. What, exactly, do you think this means? Are demons and spirits the only manifestations of "otherness" we encounter in the novel? Are there any kinds of "otherness" that the Masons are not interested in confronting?
When Sylvester drags Rose out of their hotel in Ocala – once she has returned from her evening with Uncle Howie – what do you think he says to her?
In the theater, Howie recounts for Sylvie how he admitted to Sylvester the truth about the "globules." Why do you think Sylvester reacted the way he did, with silence? How do you explain the other encounters he had that weren't Howie's tricks? Why were the ghosts so important to him?
Why are the horses Howie gave her so significant to Sylvie? What do you think they represent, and why is she so upset when they break?
Of the Entwistles, Sylvie's mother says, "What they were doing, I believe, was sharing with us a kind of truth they had created for themselves…There are times when it is easier to fool yourself than swallow some jagged piece of reality." What are some other examples in the book of characters fooling themselves?
With her father gone, there are many different men that Sylvie turns to for guidance: Sam Heekin, Detective Rummel, Derreck, Arnold Boshoff, Father Coffeey, Lloyd, and Uncle Howie. What role do they each play in her life?
Sylvie's mom and her dad have very different reactions when Abigail begins to take Rose's place in their household. Why is this? And what does Abigail represent for each of them?
Derreck says to Sylvie, "It's not the end of the world if you don't always know all the answers." We eventually learn who killed the Masons but, at the end of the book, what questions are we still left with? What are some answers that Sylvie is still looking for?
or
Not Currently Available for Direct Purchase