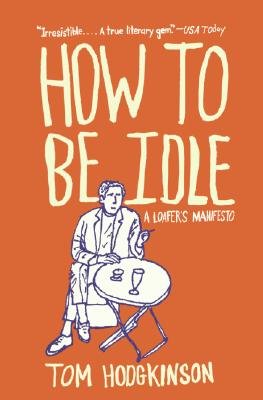 How to Be Idle
A Loafer's Manifesto
Paperback

* Individual store prices may vary.
Description
Yearning for a life of leisure? In 24 chapters representing each hour of a typical working day, this book will coax out the loafer in even the most diligent and schedule-obsessed worker.
From the founding editor of the celebrated magazine about the freedom and fine art of doing nothing, The Idler, comes not simply a book, but an antidote to our work-obsessed culture. In How to Be Idle, Hodgkinson presents his learned yet whimsical argument for a new, universal standard of living: being happy doing nothing. He covers a whole spectrum of issues affecting the modern idler—sleep, work, pleasure, relationships—bemoaning the cultural skepticism of idleness while reflecting on the writing of such famous apologists for it as Oscar Wilde, Robert Louis Stevenson, Dr. Johnson, and Nietzsche—all of whom have admitted to doing their very best work in bed.
It's a well-known fact that Europeans spend fewer hours at work a week than Americans. So it's only befitting that one of them—the very clever, extremely engaging, and quite hilarious Tom Hodgkinson—should have the wittiest and most useful insights into the fun and nature of being idle. Following on the quirky, call-to-arms heels of the bestselling Eat, Shoots and Leaves: The Zero Tolerance Approach to Punctuation by Lynne Truss, How to Be Idle rallies us to an equally just and no less worthy cause: reclaiming our right to be idle.
Praise For How to Be Idle: A Loafer's Manifesto…
"He's only gone and hit the f***ing nail on the head!" — Damien Hirst
"There is, as usual, some effort involved in holding up the book and turning the pages. This time, hurrah -- it's worth it!" — Giles Foden, author of Ladysmith and The Last King of Scotland
"Hodgkinson glories in reminding us that idleness has a long tradition. Indeed, I was so impressed by his chapter on the virtues of the nap, that one sunny lunchtime I headed for the park to fall asleep in the sun - which I did, feeling gloriously guiltless and assertive about it." — The Guardian
" In this beguiling book, [Hodgkinson] persuasively advocates idleness as the way to gain access to the creativity of the subconscious mind, or at least to enjoy a few beers." — The Spectator
"The beauty of How to Be Idle is that while Hodgkinson is perfectly serious about the benefits of loafing, he sets out his stall with a light touch. He wants us to live slow and die old, but to do it with elegance." — Scotland on Sunday
"Charming, as all idlers should be." — Kirkus Reviews
"Hodgkinson, a partisan in 'the millennia-long battle between the materialists and the mystics,' ...cares deeply enough for his subject to transcend its built-in cheekiness....In a rightly breezy style, Hodgkinson recommends stargazing, smoking, loafing in pubs, lying bed." — East Bay Express
"You know you have uncovered a true literary gem when you annoy your family with an unceasing, unwanted, and uncontrollable laugh track while reading. In fact, the only thing I lamented about Tom Hodgkinson's irresistable How to Be Idle is that the author waited so long to publish this — USA Today
"Great enjoyment . . . excellent jokes." — New York Times Book Review
"Portraying history as an epic struggle between irritating go-getters and noble idlers, the book reads like a ramble through the centuries with a lanquid, likable companion who has scoured the world's libraries to validate his obsession." — St. Petersburg Times
"Tom Hodgkinson's charming diversion on idleness is so persuasive that although I read it in June, it has taken me a month to return to the work ethic of my youth and review it. Filled with delightful anecdotes and quotes from famous and less known idlers -- some of whom produced a prodigious amount of work -- it is a joyful tribute to how we could live. ...[L]ovely, amusing...to be savoured, slowly." — Providence Journal
Harper Perennial, 9780060779696, 304pp.
Publication Date: April 24, 2007
About the Author
Tom Hodgkinson is still doing what he's always done, which is a mixture of editing magazines, writing articles, and putting on parties. He was born in 1968, founded The Idler in 1993, and now lives in Devon, England. He is also the author of The Freedom Manifesto.