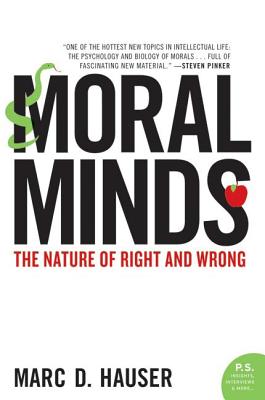 Moral Minds: The Nature of Right and Wrong (Paperback)
The Nature of Right and Wrong
Harper Perennial, 9780060780722, 528pp.
Publication Date: September 4, 2007
Description
In his groundbreaking book, Marc Hauser puts forth a revolutionary new theory: that humans have evolved a universal moral instinct, unconsciously propelling us to deliver judgments of right and wrong independent of gender, education, and religion. Combining his cutting-edge research with the latest findings in cognitive psychology, linguistics, neuroscience, evolutionary biology, economics, and anthropology, Hauser explores the startling implications of his provocative theory vis-a-vis contemporary bioethics, religion, the law, and our everyday lives.
Praise For Moral Minds: The Nature of Right and Wrong…
"About one of the hottest new topics in intellectual life: the psychology and biology of morals. . . fascinating."
-Steven Pinker, Professor of Psychology, Harvard University, and author of The Language Instinct and How the Mind Works

"An account of the nature of the human moral organ . . . a lucid, expert and challenging introduction."
-Noam Chomsky, Professor of Linguistics, MIT

"An intellectual feast that provokes thought and should stimulate critical reflection . . . a major contribution to an ongoing debate."
-Peter Singer, Professor of Bioethics, Princeton University

"The most complete attempt to bring together philosophy, anthropology, cognitive science and neuroscience... daring and wise."
-Antonio Damasio, Professor of Neuroscience, University of Southern California

"The scientific exploration of morality has advanced at a breathtaking pace… [an] enjoyable book."
-Daniel Kahneman, Professor of Psychology and Public Affairs, Princeton University, and 2002 Nobel Laureate in Economics

"For a wide audience...a superb overview of one of the hottest topics in the life sciences...a treat."
-Science

"An audacious claim about moral thought...highly accessible to a general audience...a deeply significant intellectual contribution."
-Nature

"Unlikely to disappoint."
-Nicholas Wade, New York Times

"Pathbreaking... relevant to some of the most fundamental contemporary debates in philosophy and public life."
-New York Review of Books
Advertisement