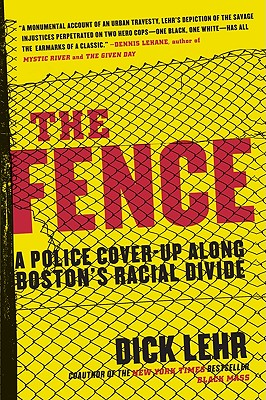 The Fence (Paperback)
A Police Cover-up Along Boston's Racial Divide
Harper Perennial, 9780060780999, 416pp.
Publication Date: June 15, 2010
* Individual store prices may vary.
Description
"The Fence is a monumental account of an urban travesty. Dick Lehr's depiction of one of the darkest chapters in recent Boston law enforcement history and the savage injustices perpetrated on two hero cops—one black, one white—has all the earmarks of a classic." — Dennis Lehane, author of Mystic River
The Boston police officers who brutally beat Michael Cox at a deserted fence one icy night in 1995 knew soon after that they had made a terrible mistake. The badge and handgun under Cox's bloodied parka proved he was not a black gang member but a plainclothes cop chasing the same murder suspect his assailants were. Officer Kenny Conley, who pursued and apprehended the suspect while Cox was being beaten, was then wrongfully convicted by federal prosecutors of lying when he denied witnessing the attack on his brother officer. Both Cox and Conley were native Bostonians, each dedicating his life to service with the Boston Police Department. But when they needed its support, they were heartlessly and ruthlessly abandoned.
A remarkable work of investigative journalism, Dick Lehr's The Fence tells the shocking true story of the attack and its aftermath—and exposes the lies and injustice hidden behind a "blue wall of silence."
About the Author
As a reporter for nearly two decades for the Boston Globe, Dick Lehr won numerous journalism awards and was a finalist for the Pulitzer Prize. A professor of journalism at Boston University, he is coauthor of the Edgar Award-winning Black Mass, the Edgar Award finalist Judgment Ridge, and The Underboss. He lives near Boston with his wife and four children.
Praise For The Fence: A Police Cover-up Along Boston's Racial Divide…
"This could be a case study in the perils of profiling. It isn't so much forgotten history, as buried. Perhaps this outstanding book can fix that."
— Adrian Walker, Boston Globe

"The Fence is a monumental account of an urban travesty. Dick Lehr's depiction of one of the darkest chapters in recent Boston law enforcement history and the savage injustices perpetrated on two hero cops—one black, one white—has all the earmarks of a classic."
— Dennis Lehane, author of Mystic River

"Dick Lehr gets inside the heads of cops, criminals, prosecutors and politics better than anyone I know. The Fence is a revealing expose of the blue wall of silence that endangers us all."
— Alan Dershowitz, Harvard Law School

"Jolting, nightmarish and potent, this true cop yarn bests any bogus reality show or overblown tabloid tale with its hardboiled spin."
— Publishers Weekly (starred review)

"As gripping a tale as "The Fence" is, it should be mandatory reading for anyone looking to be a cop in Boston . . . or anyplace else."
— Peter Gelzinis, Boston Herald

"Think Serpico translated to Boston. . . . A cautionary tale about the abuse of power and a timely civics lesson on the virtue of standing up to authority."
— Kirkus Reviews

"The Fence should be required reading in . . . expanded integrity training courses for Boston Police supervisors."
— Boston Globe

"Intriguing . . . an admirable, in-depth description of police corruption."
— Library Journal

"Gripping. . . . Tackles a broad issue with the zeal of a seasoned investigative newspaper reporter."
— Lynet Holloway, Black Voices

"The Fence makes a compelling case . . . [it] is more than an account of crime, punishment and the blue wall. Lehr weaves the life stories of several key characters into the book."
— Bay State Banner

"Lehr has vividly rendered two tragic stories, exposing a police culture of silence that victimized one of its own while also showing the "by any means necessary'' mentality of federal prosecutors that destroyed another innocent officer's reputation. Still missing here are truth and accountability."
— Chuck Leddy, The Boston Globe