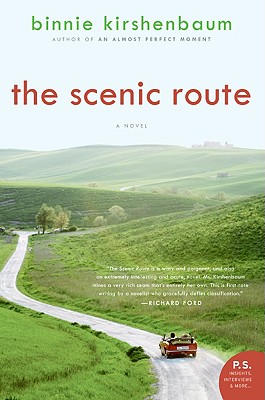 The Scenic Route (Paperback)
A Novel
Ecco, 9780060784744, 352pp.
Publication Date: May 12, 2009
* Individual store prices may vary.
Description
Divorced, alone, and unexpectedly unemployed, Sylvia Landsman flees to Italy, where she meets Henry, a wistful, married, middle-aged expatriate. Taking off on a grand tour of Europe bankrolled with his wife's money, Henry and Sylvia follow a circuitous route around the continent—as Sylvia entertains Henry with stories of her peculiar family and her damaged friends, of dead ducks and Alma Mahler. Her narrative is a tapestry of remembrances and regrets...and her secret shame: a small, cowardly sin of omission. Yet when the opportunity arises for Sylvia and Henry to do something small but brave, the refrain "if only" returns to haunt her, leaving Sylvia with one more story of love lived and lost.
About the Author
Binnie Kirshenbaum is the author of An Almost Perfect Moment, On Mermaid Avenue, A Disturbance in One Place, Pure Poetry, Hester Among the Ruins, and History on a Personal Note. She is a professor at Columbia University's School of the Arts, where she is chair of the Graduate Writing Program.
Praise For The Scenic Route: A Novel…
"Tremendously readable...miraculously, Kirshenbaum avoids sentimentality."
— Los Angeles Times

"Spiked with wit, scrubbed free of sentimentality, these tales of love and loss, courage and cowardice, transport us back into the pages of our own lives and our own families ...[The Scenic Route is] a perfect companion for summer."
— Washington Post: Book World

"It takes skill and assurance to pull off this beguiling narrative-by-digression, a love story-cum-family history-cum-confession of sins, and Kirshenbaum has both in plentiful supply…there are no happy endings here; instead, Kirshenbaum delivers capital-T truths."
— Publishers Weekly (starred review)

"[A] moving, bittersweet novel."
— More Magazine

"Introspective, mordant and entertaining, The Scenic Route is a road-trip drama that eloquently articulates its characters' conflicting desires."
— Time Out New York

"It doesn't get much more summer than road trips and ill-advised flings, and Kirshenbaum's great new novel has both, a perfect story told with a huge heart."
— Publishers Weekly Favorite Reads for the Summer (09)

"Binnie Kirshenbaum's witty, insightful European road novel turns the midlife-crisis-romance genre on its head."
— The Daily Beast

"Binnie Kirshenbaum is a fearlessly unsentimental storyteller, a gifted comic writer and a thoughtful archeologist of family life. The Scenic Route is warm, wise, and very difficult to put down."
— Gary Shteyngart

"I'm much impressed with Binnie Kirshenbaum's THE SCENIC ROUTE, an idiosyncratic and totally winning 'romance,' in which sentiment and cynicism are poised in a most virtuoso performance."
— Joyce Carol Oates

"The Scenic Route is a witty and poignant, and also an extremely interesting and acute, novel. Ms. Kirshenbaum mines a very rich seam that's entirely her own. This is first-rate writing by a novelist who gracefully defies classification."
— —Richard Ford, Pulitzer Prize-winning author of Independence Day

"Binnie Kirshenbaum is a tremendous talent. Her novels are sexy, intelligent, complex, and provocative; they press against your heart the way old lovers do."
— Junot Diaz

"Absurdly underrated Kirshenbaum is at her darkly comic and boldly encompassing best here, diverting us with hairpin-turn humor while slipping us hard truths about memory and inheritance, betrayal and guilt, and the inevitable end of the road."
— Booklist

"Life, storytelling, and memory all take us down long and winding roads. Binnie Kirshenbaum deftly explores the intersections of the three in 'The Scenic Route,' her bittersweet fifth novel about lost love and friendship."
— Boston Globe
Why would Sylvia think that it's better to do something foolish than to do nothing at all? What is it about the sin of omission, about passivity, that strikes her as so unforgivable?
What is the purpose or the reason for the stories within stories, especially the stories such as the ones about Raisinets and Shalimar? How are they connected to Sylvia's story?
How does telling stories about ourselves and our friends and family keep memory alive? Do you think it is true that, as Sylvia says, we exist only in the confines of stories?
It's easy to think ill of Henry for living off his wife's money, but would it be possible for him to live without it? Is he immoral or simply weak? Is he any different from Sylvia's Aunt Thea and Uncle John?
Neurologists have recently discovered a mechanism for eradicating traumatic memories. Sylvia's father and her great-aunt both suffered extreme memory loss and in some significant ways were happier for it. Might it be beneficial to forget those things that caused us pain?
Why didn't Sylvia ever talk to Ruby about her mental illness? Why didn't she suggest that Ruby see a psychiatrist?
In so many respects, Sylvia had an ideal childhood, yet she was not a very happy child. Why was that?
What do you think really happened to Henry's sister?
The novel opens with an excerpt of the poem An Ode to Things. What significance do things, material things, hold for these characters?
Is it a mid-life crisis, a reckoning of her own mortality, that prompts Sylvia to fear that her future holds only memories and regrets? Does being middle-aged change expectations or hopes for the future?