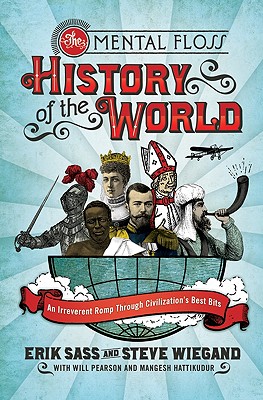 The Mental Floss History of the World: An Irreverent Romp Through Civilization's Best Bits (Hardcover)
An Irreverent Romp Through Civilization's Best Bits
Collins Publishers, 9780060784775, 416pp.
Publication Date: October 28, 2008
* Individual store prices may vary.
or
Not Currently Available for Direct Purchase
Description
"An irreverent romp through history's best bits," The Mental Floss History of the World is an amazingly entertaining joyride through 60,000 years of human civilization. As audacious as it is edifying, here is a hilarious and irreverent--yet always historically accurate--overview of the ascent (or descent) of humankind, courtesy of the same rebel geniuses who brought you Mental Floss presents Condensed Knowledge and Mental Floss Presents Forbidden Knowledge. Updated with all the hot topics and events of the past few years, The Mental Floss History of the World is proof positive that just because something's true doesn't mean it's boring.
Praise For The Mental Floss History of the World: An Irreverent Romp Through Civilization's Best Bits…
"[A]n admirable job of covering 60,000 years of human history in one volume. Along with the names of people and places, the dates and statistics, the wars, disasters, revelations, and accomplishments, there are fascinating stories, hilarious oddities, and plenty of fun….[A] wealth of information."
-School Library Journal
Advertisement