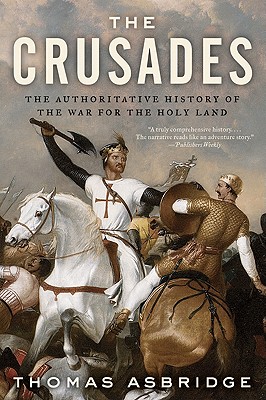 The Crusades
The Authoritative History of the War for the Holy Land
Paperback

* Individual store prices may vary.
Other Editions of This Title:
Digital Audiobook (8/15/2016)
Hardcover (3/9/2010)
MP3 CD (8/16/2016)
Compact Disc (8/16/2016)
Compact Disc (8/16/2016)
Description
The Crusades is an authoritative, accessible single-volume history of the brutal struggle for the Holy Land in the Middle Ages. Thomas Asbridge—a renowned historian who writes with "maximum vividness" (Joan Acocella, The New Yorker)—covers the years 1095 to 1291 in this  big, ambitious, readable account of one of the most fascinating periods in history. From Richard the Lionheart to the mighty Saladin, from the emperors of Byzantium to the Knights Templar, Asbridge's book is a magnificent epic of Holy War between the Christian and Islamic worlds, full of adventure, intrigue, and sweeping grandeur.
Praise For The Crusades: The Authoritative History of the War for the Holy Land…
"Brilliant, authoritative, and accessible, Thomas Asbridge's THE CRUSADES is a must read. Asbridge balances impeccable scholarship with a gifted storyteller's engaging voice. He vividly portrays the driving forces and personalities, the perspectives of Christians and Muslims, and the legacy of the Crusades in Christian and Muslim history and imagination."
— Professor John L. Esposito, Director of the Center for Muslim-Christian Understanding, Georgetown University, and author of The Future of Islam.

"A truly comprehensive history of holy war in the Holy Land. Emphasizing the dramatic Third Crusade and its heroic antagonists, Richard the Lionheart and Saladin, the narrative reads like an adventure story, albeit one that is both factual and instructive."
— Publishers Weekly (starred review)
Ecco, 9780060787295, 784pp.
Publication Date: March 8, 2011
About the Author
Thomas Asbridge is Reader in Medieval History at Queen Mary, University of London, and the author of 'The Greatest Knight: The Remarkable Life of William Marshal, the Power Behind Five English Thrones' (2014), 'The Crusades: The War for the Holy Land' (2010) and 'The First Crusade: A New History' (2004). He studied for a BA in Ancient and Medieval History at Cardiff University, and then gained his PhD in Medieval History at Royal Holloway, University of London.
Thomas wrote and presented a BBC documentary, 'The Greatest Knight: William Marshal', and a landmark three-part documentary series 'The Crusades' for the BBC, filmed on location across the Near East and Europe. He has also appeared in many other internationally broadcast television documentaries and radio programs, and has worked as a historical consultant for HBO and Company Pictures. He now lives in southern England.