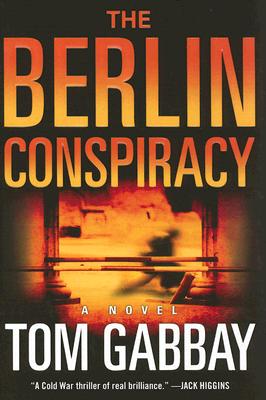 The Berlin Conspiracy (Hardcover)
William Morrow, 9780060787851, 304pp.
Publication Date: January 1, 2006
* Individual store prices may vary.
Description
Berlin. June 1963.
Jack Teller shouldn't be here.
But is a CIA agent ever really out of the game?
Jack Teller left the Company after the Bay of Pigs fiasco, hoping to live a quiet life on a remote beach in south Florida. But it's not turning out that way. Just days before President John F. Kennedy is scheduled to deliver his historic speech at the Berlin Wall, a mysterious message is sent to the Berlin station of the CIA from a Colonel in the East German Stasi. He claims to have important information, but he will disclose it to only one man: Jack.
The Berlin Conspiracy races across the terrain of John le Carre, Frederick Forsyth, and Robert Ludlum, while introducing a brilliant, fresh voice in espionage fiction. Tom Gabbay has created an unforgettable twentieth-century hero in Jack Teller, and populated his story with a wealth of multidimensional characters -- men and women who exist in the parallel but inter-secting worlds of a divided Berlin when it was the crossroads between communist Soviet Union and the West.
The intelligence provided by this Stasi official, if true, exposes a treacherous plot originating from the highest levels of the U.S. government. Jack's handlers, including his former mentor Sam Clay, believe it's a communist setup, and Jack is playing the part of the expendable pawn. But after a face-to-face meeting with his informer, Jack isn't so sure and plunges into a risky search for the truth. After receiving threats from higher-ups in the CIA, he soon finds himself alone, at the axis of the Cold War, in a city that holds many dark secrets -- including some from Jack's own storied past.
In the world of espionage, lies are currency and nothing is what it seems -- a truth Jack would do well to remember if he wants to live to prevent a global catastrophe. A unique and brilliantly plotted debut thriller featuring dark twists, breathtaking action, and unforgettable characters, The Berlin Conspiracy is spellbinding to its hair-raising end.
Praise For The Berlin Conspiracy…
"A Cold War thriller of real brilliance."
-Jack Higgins

"A spy novel of the first rank. ... Add a new name to the must-read list of thriller writers."
-Rocky Mountain News (Grade: A)

"One of the early favorites for best debut of the year."
-Tampa Tribune
or
Not Currently Available for Direct Purchase