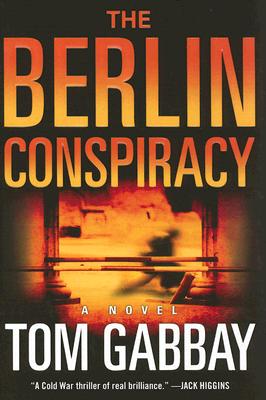 The Berlin Conspiracy
A Novel
Hardcover

* Individual store prices may vary.
Other Editions of This Title:
Mass Market (12/26/2006)
Description
Berlin. June 1963.
Jack Teller shouldn't be here.
But is a CIA agent ever really out of the game?
Jack Teller left the Company after the Bay of Pigs fiasco, hoping to live a quiet life on a remote beach in south Florida. But it's not turning out that way. Just days before President John F. Kennedy is scheduled to deliver his historic speech at the Berlin Wall, a mysterious message is sent to the Berlin station of the CIA from a Colonel in the East German Stasi. He claims to have important information, but he will disclose it to only one man: Jack.
The Berlin Conspiracy races across the terrain of John le Carré, Frederick Forsyth, and Robert Ludlum, while introducing a brilliant, fresh voice in espionage fiction. Tom Gabbay has created an unforgettable twentieth-century hero in Jack Teller, and populated his story with a wealth of multidimensional characters -- men and women who exist in the parallel but inter-secting worlds of a divided Berlin when it was the crossroads between communist Soviet Union and the West.
The intelligence provided by this Stasi official, if true, exposes a treacherous plot originating from the highest levels of the U.S. government. Jack's handlers, including his former mentor Sam Clay, believe it's a communist setup, and Jack is playing the part of the expendable pawn. But after a face-to-face meeting with his informer, Jack isn't so sure and plunges into a risky search for the truth. After receiving threats from higher-ups in the CIA, he soon finds himself alone, at the axis of the Cold War, in a city that holds many dark secrets -- including some from Jack's own storied past.
In the world of espionage, lies are currency and nothing is what it seems -- a truth Jack would do well to remember if he wants to live to prevent a global catastrophe. A unique and brilliantly plotted debut thriller featuring dark twists, breathtaking action, and unforgettable characters, The Berlin Conspiracy is spellbinding to its hair-raising end.
Praise For The Berlin Conspiracy: A Novel…
"A spy novel of the first rank. ... Add a new name to the must-read list of thriller writers."
— Rocky Mountain News (Grade: A)

"A Cold War thriller of real brilliance."
— Jack Higgins

"One of the early favorites for best debut of the year."
— Tampa Tribune
William Morrow, 9780060787851, 304pp.
Publication Date: January 3, 2006
About the Author
Tom Gabbay is the author of The Berlin Conspiracy and The Lisbon Crossing. He previously worked for NBC Entertainment as director of children's and comedy programs, and was creative director of the production partnership between NBC and ITV Television in the United Kingdom. He lives in Europe.
or
Not Currently Available for Direct Purchase