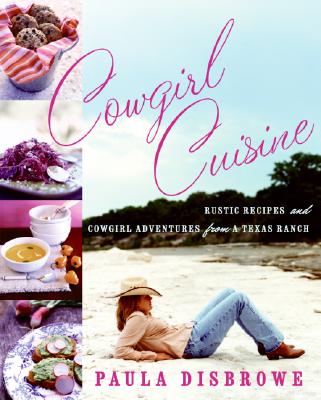 Cowgirl Cuisine (Hardcover)
Rustic Recipes and Cowgirl Adventures from a Texas Ranch
William Morrow Cookbooks, 9780060789398, 304pp.
Publication Date: March 13, 2007
* Individual store prices may vary.
Description
Who hasn't fantasized about leaving behind the chaos of everyday life and moving someplace where life is simpler? Well, that's just what chef and food writer Paula Disbrowe did when she left New York City and moved to Texas. She traded her subway MetroCard for a pickup truck and her stiletto heels for a pair of down-home cowboy boots.
In Cowgirl Cuisine, Paula tells her story through food. She weaves together romance, adventure, and more than a few laughs as she celebrates the beauty of flavorful food, fresh air, and her own wholesome recipes, all while taking home cooks on a journey well off the beaten path.
Like Texas itself, the recipes in Cowgirl Cuisine are big-hearted and bold—whole-grain muffins bursting with berries, salads loaded with leafy herbs and avocado, and fiery bowls of chili. Paula's food is healthful and full of nutrients, but this is not a diet cookbook—cowgirls don't have time to count calories (besides, they burn it all off hoisting newborn calves, hiking the hills, and galloping off on long trail rides). Instead, this is food that is satisfying and easy to prepare, which leaves plenty of time for living life to the fullest.
From hearty ranch breakfasts to fresh salads, spicy nibbles, seductive desserts, and killer watermelon margaritas, Paula's recipes are full of her signature zest, spunk, and spice. Start your day off right with Canyon Granola or Cowgirl Migas. For lunch, have a nourishing bowl of silky Roasted Pumpkin Soup with Red Chile Cream or Chicken and Citrus Slaw Tostadas. For dinner, try Gazpacho Risotto with Garlic Shrimp or Cowboy Pot Roast with Coffee and Whiskey. And be sure to save room for one of Paula's decadent desserts, such as Chocolate Pecan Squares or Dulce de Leche Flan with Pepita Brittle.
In addition to her recipes, Paula includes humorous and heartfelt vignettes about wild animals on the loose, scorpions in the sheets, and Casanova cowboys. And the pages are filled with lush photographs of food and life on the range. Cowgirl Cuisine isn't just spurs and salsa—it's about following your dream. So saddle up and follow yours.
About the Author
Paula Disbrowe was the cowgirl chef at Hart & Hind Fitness Ranch in Rio Frio, Texas, from January 2002 to December 2005. Prior to that she spent ten years in Manhattan working as a food and travel writer. Her work has appeared in the New York Times, T Living, Food & Wine, Spa, Health, Cooking Light, and Saveur, among others. She was the food editor of Restaurant Business magazine from 1997 through January of 2000. She lives with her husband and their menagerie of animals at Whistle Berry Ranch in the Nueces Canyon and in Austin, Texas.
Praise For Cowgirl Cuisine: Rustic Recipes and Cowgirl Adventures from a Texas Ranch…
"Finally. One book that has, between it's two covers, a recipe for macho steaks, boozy margaritas, a gripping story about birthing large farm animals, and a great photo of the lingerie a cowgirl chef wears---as she's taking it off! This is one-stop shopping."
— Gabrielle Hamilton, Chef/Owner, PRUNE Restaurant

"This book is like its author -- sexy, playful and fun."
— Suzanne Goin, Chef/Owner, Lucques and AOC Restaurants

"Entertaining...an eclectic selection of mouth-watering recipes."
— Library Journal

"Disbrowe's goal, she explains in her intro, was to write a cookbook 'about fresh, satisfying food that is easy enough to prepare while living life to the fullest.' In this she has succeeded."
— Publishers Weekly

"One of the most entertaining Texas cookbooks I've seen in a long time."
— Patricia Sharpe, Texas Monthly

"Sexy, irreverent, documentary-style photographs and sweet stories about gathering eggs and skinny-dipping add more layers to a sweet, sassy book that is more than just a cookbook."
— Kansas City Star
or
Not Currently Available for Direct Purchase