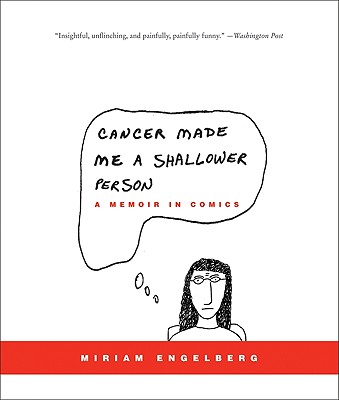 Cancer Made Me a Shallower Person (Paperback)
A Memoir in Comics
Harper Perennial, 9780060789732, 144pp.
Publication Date: April 25, 2006
* Individual store prices may vary.
Description
a cartoonist examines her experience with breast cancer in an irreverent and humorous graphic memoir.
About the Author
Miriam Engelberg was forty-three when she was diagnosed with breast cancer. Like anyone faced with a life-altering personal trauma, she sought out a coping mechanism. While fellow patients championed the benefits of support groups and hypnotherapy, Engelberg found her greatest comfort in drawing, her lifelong passion.
Cancer Made Me a Shallower Person puts Engelberg's life in focus the best way she knows how -- with cartoons. Her graphic approach to a very serious subject follows in the tradition of Art Spiegelman's award-winning Maus, but in her own offbeat, on-target, and darkly, devastatingly humorous style. From sex and wigs to nausea and causes -- Was it overzealous cheese consumption or not enough multivitamins? -- Engelberg leaves no aspect of cancer unexamined. In this remarkable "memoir in comics," she takes a clear-eyed, deliciously sardonic look at caring friends and relatives, doctors, treatments, and support groups while never losing her guarded optimism and, most important, her sense of humor.
Praise For Cancer Made Me a Shallower Person: A Memoir in Comics…
Very funny....in the finest tradition of black humor. Engelberg's narrative is riveting...extremely honest and extraordinarily powerful.
— Publishers Weekly

"So funny, so sad, so daring, so honest, and so utterly human that I couldn't put it down."
— Harriet Lerner, Ph.D., author of The Dance of Anger

"The most important thing to know about Shallower is that it's funny."
— SF Weekly

"...a triumph of imagination and spirit."
— Los Angeles Times

"...a spirited perspective..."
— Daily Telegraph (London)