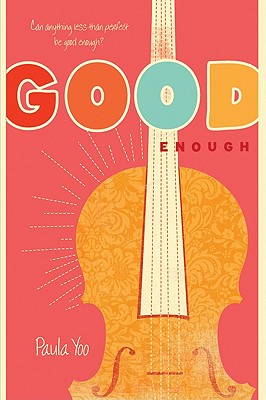 Good Enough (Paperback)
HarperTeen, 9780060790905, 336pp.
Publication Date: May 8, 2012
Other Editions of This Title:
Hardcover (2/1/2008)
Library Binding (2/5/2008)
* Individual store prices may vary.
Description
Paula Yoo scores big in her hilarious debut novel about an overachiever who longs to fit in and strives to stand out. The pressure is on!
How to make your Korean parents happy:
1. Get a perfect score on the SATs.
2. Get into HarvardYalePrinceton.
3. Don't talk to boys.*
Patti's parents expect nothing less than the best from their Korean-American daughter. Everything she does affects her chances of getting into an Ivy League school. So winning assistant concertmaster in her All-State violin competition and earning less than 2300 on her SATs is simply not good enough.
But Patti's discovering that there's more to life than the Ivy League. To start with, there's Cute Trumpet Guy. He's funny, he's talented, and he looks exactly like the lead singer of Patti's favorite band. Then, of course, there's her love of the violin. Not to mention cool rock concerts. And anyway, what if Patti doesn't want to go to HarvardYalePrinceton after all?
*Boys will distract you from your studies.
About the Author
From Paula Yoo:
Okay, I admit it. Like Patti Yoon, I play the violin. Yes, I was concertmaster of my Connecticut All-State High School Orchestra. And I snuck out occasionally to see a couple of cool bands (sorry, Mom & Dad). But this novel is a work of fiction. Although I too was forced to undergo a really bad home perm, it burned my left ear, not my right. And there was a cute guy in my homeroom who played rock guitar and asked me to work on a few songs with him, but his name was not Ben Wheeler.
When I'm not writing novels that allegedly have nothing to do with my personal life, I also write TV scripts. I was born in Virginia and grew up in Connecticut. I've also lived in Seoul, South Korea; New York; Seattle; and Detroit. I now live in Los Angeles with my husband, who plays guitar—and yes, we jam occasionally, just like Patti and Ben.
Praise For Good Enough…
"A funny story that will hit home for many readers."
— Publishers Weekly

"Patti's convincing narration [is] filled with laugh-out-loud lines, but it's the deeper questions about growing up with immigrant parents, confronting racism, and how best to find success and happiness that will stay with readers."
— ALA Booklist

"Teens living through the pressure of college applications and questioning their futures will sympathize with Patti in this enjoyable, funny but not superficial read."
— Kirkus Reviews

"Yoo will have teens wondering if Patti can ever measure up, and how she will survive the pressure and heartbreak of her senior year. Short chapters, the teen's funny occasional SAT tips, and her top-10 lists make this a good options for reluctant readers.—
— School Library Journal