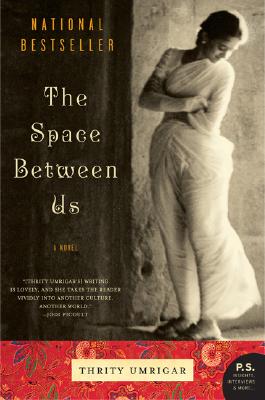 The Space Between Us (Paperback)
A Novel
Harper Perennial, 9780060791568, 352pp.
Publication Date: February 6, 2007
Other Editions of This Title:
Digital Audiobook (2/28/2013)
Paperback (5/3/2011)
Paperback, Large Print (3/27/2007)
Hardcover (1/10/2006)
Paperback (10/11/2016)
* Individual store prices may vary.
Description
"This is a story intimately and compassionately told against the sensuous background of everyday life in Bombay."—Washington Post Book World
 
"Bracingly honest."—New York Times Book Review
 
The author of Bombay Time, If Today Be Sweet, and The Weight of Heaven, Thrity Umrigar is as adept and compelling in The Space Between Us—vividly capturing the social struggles of modern India in a luminous, addictively readable novel of honor, tradition, class, gender, and family. A portrayal of two women discovering an emotional rapport as they struggle against the confines of a rigid caste system, Umrigar's captivating second novel echoes the timeless intensity of Zora Neale Hurston's Their Eyes Were Watching God, Betty Smith's A Tree Grows in Brooklyn, and Barbara Kingsolver's The Poisonwood Bible—a quintessential triumph of modern literary fiction.
About the Author
Thrity Umrigar is the author of seven novels Everybody's Son, The Story Hour, The World We Found, The Weight of Heaven, The Space Between Us, If Today Be Sweet, and Bombay Time; a memoir, First Darling of the Morning; and a children's picture book, When I Carried You in My Belly. A former journalist, she was awarded a Nieman Fellowship to Harvard and was a finalist for the PEN Beyond Margins Award. A professor of English at Case Western Reserve University, she lives in Cleveland, Ohio.
Praise For The Space Between Us: A Novel…
"With humanity and suspense, novelist Thrity Umrigar tackles love, loyalty, injustice - and survival."
— Marie Claire

"Poignant."
— Entertainment Weekly

"[Umrigar] displays an impressive talent for conceiving multidimensional, sympathetic characters with life-like emotional quandaries and psychological stumbling blocks."
— Washington Post Book World, Praise for Bombay Time

"Sadness suffuses this eloquent tale, whose heart-stopping plot twists reveal the ferocity of fate."
— Booklist (starred review)

"Heartbreaking.... A subtle, elegant analysis of class and power... that quietly roars against tyranny."
— Kirkus Reviews

"Intimately and compassionately told.... Sensuous.... Umrigar's memorable characters will live on for a long time."
— Frances Itani, Washington Post Book World

"Umrigar is a perceptive and often piercing writer."
— New York Times Book Review

"[The Space Between Us] is provocative and disturbing."
— Boston Globe

"[A] powerful novel."
— National Post (Canada)

"Umrigar is a highly skilled storyteller...the novel's plot and depth of characterisation provide irresistible momentum."
— Time Out New York
The novel deals with a relationship that, despite all the good will in the world, is ultimately based on the exploitation of one human being by another. Has this novel caused you to look at any situations in your own life where you may be benefiting from the labor or poverty of another?
Remarking on the fact that Bhima is not allowed to sit on the furniture in Sera Dubash's home, or drink from the same glass, it could be said that the novel is about a kind of "Indian Apartheid." Do you think that's putting it too strongly? If not, can you identify any parallels in contemporary America?
The novel tracks the lives of two women. Trace some of the ways in which their lives resemble each other's. What are the points of departure?
Neither Sera nor Bhima end up with happy, successful marriages. Why? Trace the factors that cause each marriage to fail. And for all its failings, which woman has the better marriage?
The Afghani balloonwalla is a minor but pivotal character in the novel. What is his role? What does he symbolize or represent?
The novel is told from the points of view of the two women, Bhima and Sera. Should it have included more points of view? For instance, should Viraf have had his own "voice"?
How do you read the ending of the book? Is it a hopeful ending? Do you think the ending is justified, given what awaits Bhima the next day?
This is a novel about the intersection of class and gender. Can you think of ways in which gender bonds the two women and ways in which class divides them?
What societal changes and/or personal choices would need to be different in order for us to envision the possibility of someone like Bhima having a better life?
The author has said that although the plot of The Space Between Us is a work of fiction, the character of Bhima is based on a woman who used to work in her home when the writer was a teenager. Is there any person in your own life who has inspired you enough to want to write a book about them? What is it about that person that had a deep impact on you?