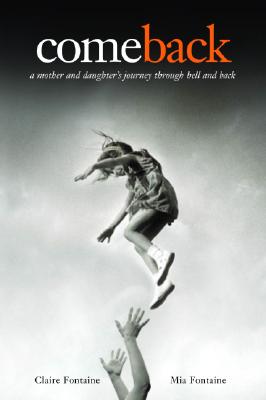 Come Back (Hardcover)
A Mother and Daughter's Journey Through Hell and Back
ReganBooks, 9780060792169, 311pp.
Publication Date: April 1, 2006
* Individual store prices may vary.
Description
The unflinching true account of a teenage girl's descent into society's underbelly -- and her mother's desperate and ultimately successful attempts to bring her back.
How does an honor student at one of Los Angeles's finest prep schools -- a bright, beautiful girl from a loving home -- trade school uniforms and afternoons at the beach for shooting up in the back of a van in rural Indiana? How does her devoted mother emerge from the shock of finding that her daughter has not only disappeared but had been living a secret life for more than a year?
Mother and daughter tell their parallel stories in mesmerizing first-person accounts. Claire Fontaine's story is a parent's worst nightmare, a cautionary tale chronicling her daughter Mia's drug-fueled manipulation of everyone around her as she sought refuge in the seedy underworld of criminals and heroin addicts, the painful childhood secrets that led up to it, and the healing that followed. Her search for Mia was brutal for both mother and daughter, a dizzying series of dead ends, incredible coincidences and, at times, miracles. Ultimately, Mia was forced into harsh-but-loving boot camp schools on two continents while Claire entered a painful but life-changing program of her own. Mia's story includes the jarring culture shock of the extreme and controversial behavior modification school she was in for nearly two years, which helped her overcome depression and self-hatred to emerge a powerful young woman with self-esteem and courage.
An unforgettable story of love and transformation, Come Back is a heart-wrenching and humorous portrayal of the primal bond between mother and daughter that will resonate with women everywhere.
Praise For Come Back: A Mother and Daughter's Journey Through Hell and Back…
"Come Back is a testament to the power of the love between a mother and a daughter."
-New York Times Book Review

"Best mother-daughter memoir."
-Glamour

"We strongly recommend this powerful mother-daughter memoir...Intense, shocking, and ultimately triumphant..."
-Barnes & Noble

"A nightmarish saga of a teenage runaway in L.A. ends triumphantly. . . . Heart-wrenching, honest dialogue."
-Publishers Weekly

"A powerful and moving story of two brave women who struggled through darkness into the light."
-Susan Forward, Ph.D., author of Toxic Parents

"A rare, visceral reading experience....Offering lessons in living, loving, and accepting responsibility that could benefit every reader."
-Edwin John Wintle, author of Breakfast with Tiffany: An Uncle's Memoir

"One of those rare books I could hardly put down until I finished. . . . Brilliant—and often funny, too!"
-Leah Komaiko, author of Am I Old Yet?
or
Not Currently Available for Direct Purchase