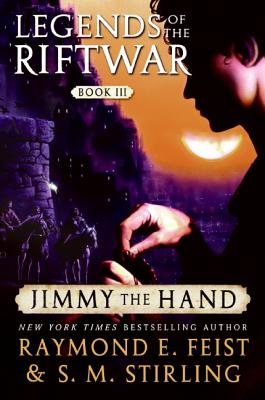 Jimmy the Hand
Legends of the Riftwar, Book III
Paperback

* Individual store prices may vary.
Other Editions of This Title:
Digital Audiobook (7/6/2020)
Description
From the New York Times bestselling author comes the third volume in the exceptional Legends of the Riftwar series that began with Honored Enemy and continued with Murder in LaMut.
SELLING POINTS
• All of Feist's books regularly appear on local lists as well as the New York Times, USA Today, Wall Street Journal, Publishers Weekly, and various chain bestseller lists. More than 15 million copies of Feist's books have been sold worldwide.
• The three Legends of the Riftwar titles return to Feist's bestselling kingdom of Midkemia. Set during the infamous Riftwar, each title, co-written with another well-respected fantasy author, tells a story tangential to the action of the Riftwar Saga, with cameo appearances from Feist's most beloved characters.
• Jimmy the Hand was a Featured Alternate Selection of the Science Fiction Book Club.
• The magic, youthful heroes, and epic battles make Feist's work a natural for crossover to a young adult audience.
Harper Voyager, 9780060792947, 384pp.
Publication Date: July 29, 2008
About the Author
Raymond E. Feist is the author of more than thirty previous books, including the internationally bestselling "Riftwar Cycle" of novels set in his signature world of Midkemia, as well as a standalone novel, Faerie Tale. The Firemane Saga is his first all-new epic fantasy series. He lives in San Diego, California.
A well-regarded author of alternate history science-fiction novels, S.M. Stirling has written more than twenty-five books, including acclaimed collaborations with Anne McCaffrey, Jerry Pournelle, and David Drake. His most recent novels are T2: Infiltrator, The Peshawar Lancers, and the Island in the Sea of Time trilogy.