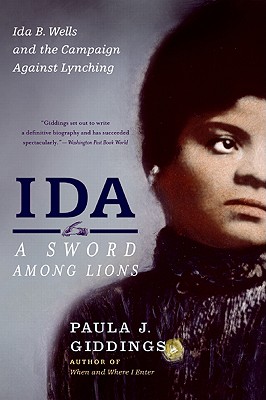 Ida
A Sword Among Lions: Ida B. Wells and the Campaign Against Lynching
Paperback

* Individual store prices may vary.
Description
Pulitzer Prize Board citation to Ida B. Wells, as an early pioneer of investigative journalism and civil rights icon
From a thinker who Maya Angelou has praised for shining "a brilliant light on the lives of women left in the shadow of history," comes the definitive biography of Ida B. Wells—crusading journalist and pioneer in the fight for women's suffrage and against segregation and lynchings
Ida B. Wells was born into slavery and raised in the Victorian age yet emerged—through her fierce political battles and progressive thinking—as the first "modern" black women in the nation's history.
Wells began her activist career when she tried to segregate a first-class railway car in Memphis. After being thrown bodily off the car, she wrote about the incident for black Baptist newspapers, thus beginning her career as a journalist. But her most abiding fight would be the one against lynching, a crime in which she saw all the themes she held most dear coalesce: sexuality, race, and the law.
Praise For Ida: A Sword Among Lions: Ida B. Wells and the Campaign Against Lynching…
"A groundbreaking biography gives this warrior her due." — O magazine
A sweeping and timely biographical narrative about Ida B. Wells...a paragon of American history. — Ebony
"A hearty thumbs-up for this powerful retelling of her life." — Essence
"Paula J. Giddings IDA: A SWORD AMONG LIONS (Amistad) is a worthy biography of the vibrant crusader who led the nation's first campaign against lynching." — Vogue
"Ida B. Wells was an inspired journalist, an uncompromising civil libertarian, and a woman far ahead of her patriarchal times—a 'difficult' woman. Paula Giddings's monumental achievement restores this extraordinary contrarian to her place as one of the grand pace-setters of American social justice and female empowerment." — David Levering Lewis, Pulitzer Prize-Winning biographer of W.E.B. DuBois
"History at its best—clear, intelligent, moving. Paula Giddings has written a book as priceless as its subject." — Toni Morrison
"The best interpretation of black women and race and sex that we have." — Women's Review of Books on When and Where I Enter
Amistad, 9780060797362, 832pp.
Publication Date: March 3, 2009
About the Author
Paula J. Giddings is the Elizabeth A. Woodson 1922 Professor in Afro-American Studies at Smith College and the author of When and Where I Enter and In Search of Sisterhood.