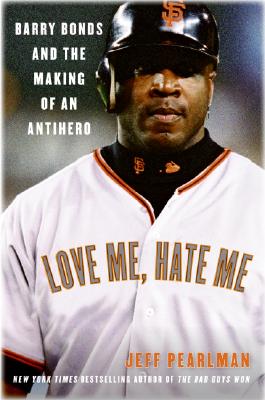 Love Me, Hate Me
Barry Bonds and the Making of an Antihero
Paperback

* Individual store prices may vary.
Other Editions of This Title:
Hardcover (4/18/2006)
Description
From the bestselling author of "The Bad Guys Won," an investigation of the life and career of Barry Bonds, one of the most celebrated, contradictory and controversial sports figures of our time.
No player in the history of baseball has left such an indelible mark on the game as Barry Bonds. In his twenty-year career, Bonds has amassed an unprecedented 7 Most Valuable Player awards, 8 Gold Gloves, and more than 700 home runs (and counting), an impressive assortment of feats that has earned him the consideration as one of the greatest players the game has ever seen. Equally deserved, however, is his reputation as an insufferable braggart, whose mythical home runs are rivaled only by his legendary ego. From his staggering ability and fabled pedigree (father Bobby played outfield for the Giants; cousin Reggie and godfather Willie are both Hall of Famers), to his well-documented run-ins with teammates and his alleged steroid abuse, Bonds inspires a like amount of passion from both sides of the fence. For many, Bonds belongs beside Babe Ruth and Hank Aaron in baseball's holy trinity; for others, he embodies all that is wrong with the modern athlete: aloof; arrogant; alienated.
In "Love Me, Hate Me," journalist Jeff Pearlman, author of the bestselling "The Bad Guys Won," offers a searing and insightful look into one of the most divisive athletes of our time. Drawing on extensive interviews with Bonds himself, members of his family, former and current managers, teammates, opponents, trainers, outspoken critics, and unapologetic supporters alike, Pearlman reveals, for the first time, a wonderfully nuanced portrait of a prodigiously talented--and immensely flawed--American icon, whose controversial run at baseball immortality forever changed the way we look at our sports heroes.
It Books, 9780060797539, 384pp.
Publication Date: February 20, 2007
About the Author
Jeff Pearlman is a columnist for SI.com, a former Sports Illustrated senior writer, and the critically acclaimed author of Boys Will Be Boys, The Bad Guys Won!, and Love Me, Hate Me.
or
Not Currently Available for Direct Purchase