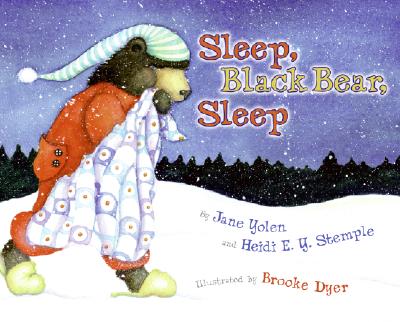 Sleep, Black Bear, Sleep (Hardcover)
HarperCollins, 9780060815608, 32pp.
Publication Date: February 6, 2007
* Individual store prices may vary.
Description
When winter's snow creates a soft blanket of silence, nothing is more comforting than curling up under a cozy quilt. Whether slumber awaits in a warm bed, a rocking hammock, or a nest of leaves, the feeling of comfort and the infinite world of dreams are universal.
This reassuring lullaby will calm any child to sleep, while Brooke Dyer's gentle illustrations show that the little details in everyone's niche truly make a place into a home.
About the Author
Jane Yolen is the award-winning author of more than two hundred books, including fantasy, science fiction, and poetry, which earned her the moniker the American Hans Christian Andersen. Her titles include Odysseus in the Serpent Maze, The Dragon's Boy, and The Girl Who Loved the Wind. Jane Yolen divides her time between a farmhouse in Massachusetts and a house in Scotland.
Brooke Dyer is the illustrator of Sleep, Black Bear, Sleep by Jane Yolen and Heidi E. Y. Stemple and Mama Always Comes Home by Karma Wilson. Brooke lives in Lincoln, Massachusetts, with her husband, three young children, and their dog, Sophie.
Heidi E. Y. Stemple is the author of One If By Land: A Massachusetts Number Book. She has previously collaborated with her mother, Jane Yolen, on twelve books, including The Salem Witch Trials, illustrated by Roger Roth, and Dear Mother, Dear Daughter, illustrated by Gil Ashby. She has two daughters and lives in Hatfield, Massachusetts.