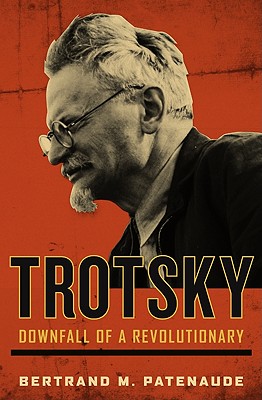 Trotsky (Hardcover)
Downfall of a Revolutionary
Harper, 9780060820688, 384pp.
Publication Date: August 25, 2009
Other Editions of This Title:
Paperback (9/14/2010)
MP3 CD (6/28/2016)
* Individual store prices may vary.
Description
In Trotsky: Downfall of a Revolutionary, Stanford University lecturer Bertrand M. Patenaude tells the dramatic story of Leon Trotsky's final years in exile in Mexico. Shedding new light on Trotsky's tumultuous friendship with painter Diego Rivera, his affair with Rivera's wife Frida Kahlo, and his torment as his family and comrades become victims of the Great Terror, Trotsky: Downfall of a Revolutionary brilliantly illuminates the fateful and dramatic life of one of history's most famous yet elusive figures.
About the Author
Bertrand M. Patenaude is a lecturer at Stanford University, where he is a research fellow at the Hoover Institution Library and Archives. He is the author of The Big Show in Bololand, which won the Marshall Shulman Book Prize. He lives in Menlo Park, California.
Praise For Trotsky: Downfall of a Revolutionary…
"Bertrand Patenaude tells a masterly story, of a brilliant, cornered man and, along the way, of a misguided century."
— The Wall Street Journal

"Excellent, exciting. . . . Trotsky charts, with novelistic flair and in archival detail, the progress of the plot that culminated in Trotsky being killed with an ice axe in 1940."
— Simon Sebag Montefiore, The Sunday Telegraph

"This book deepens and enhances the sense of tragedy that always attends contemplation of 'the Old Man' and his last struggle."
— Christopher Hitchens

"An absorbing reconstruction of Trotsky's last years in Mexico. . . . Patenaude's hyrbrid history and detective story grips from start to finish. With rare narrative verve, he chronicles the last years of a revolutionary's life, with its sexual jealousies, paranoia, and finally murder."
— Ian Thomson, The Sunday Times

"Well researched and vividly told."
— Robert Service, The Guardian

"A captivating account. . . . Patenaude paints a vivid portrait of Trotsky, a flamboyant, Westernized intellectual. . . . This is a dramatic, event-filled portrait of a turbulent, half– forgotten era."
— —Publishers Weekly (starred review)

"Fascinating. . . . A masterly account. . . . Patenaude applies his expert knowledge of early Soviet history in narrating the story of Leon Trotsky's final years in exile in Mexico."
— Library Journal

"This is an extraordinary, gripping piece of history that gets closer to Trotsky's essential character than any of the vast tomes devoted to him in the past. Perhaps most extraordinary is the page-turning narrative drive which keeps the reader enthralled despite knowing how the story ends. Don't miss it."
— —Misha Glenny

"Bertrand Patenaude's Trotsky is an epic character: fiery, vain, contentious, exacting, intellectually lively, ideologically blinded, seductive, even sexually aggressive—and a man keenly aware that the inherent tragedy behind human existence overshadows the petty mishaps of politics, assassination included."
— —Ken Kalfus

"A haunting and dramatic reconstruction of Trotsky's life and death in exile. The detail is fascinating, almost voyeuristic."
— Richard Overy, Literary Review

"Gripping. . . . Patenaude has created both a compelling biography of the revolutionary leader and a thrilling account of the violent world of international socialist politics in the 1930s."
— The Financial Times

"It is a tribute to Bertrand Patenaude's narrative skill that although we always know how his book is going to end, it is none the less readable and utterly gripping. . . . The pace and tension are worthy of a Hollywood thriller."
— Dominic Sandbrook, The Daily Telegraph
or
Not Currently Available for Direct Purchase