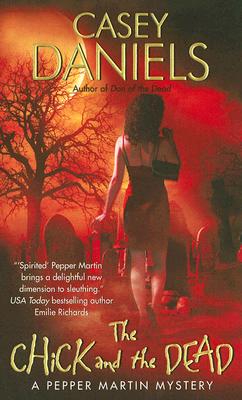 The Chick and the Dead (Mass Market)
A Pepper Martin Mystery
Avon, 9780060821470, 336pp.
Publication Date: February 27, 2007
* Individual store prices may vary.
Description
Ever since the former rich girl-turned-Cleveland cemetery tour guide banged her head on a headstone, she sees dead people. Worse still, she hears them—and they won't shut up! Now it's Didi Bowman, a poodle-skirted relic from the Great Beyond, who's bending Pepper's ear, complaining that her famous author sister, Merilee, has done her wrong. Trouble is, if Pepper proves it, she'll break the hearts of millions of Merilee's fans. And if she doesn't, Didi's ghost may never go away.
Pepper needs peace and quiet (and rent money), so the cash-strapped ex-heiress agrees to take a job as Merilee's secretary and dig around the family tree. But when she unearths more than she bargained for—like an illegitimate daughter, a bunch of illicit love affairs, and a possible murder—suddenly a very poisoned pen is all set to write Pepper out of the story permanently.
About the Author
Casey Daniels once applied for a job as a tour guide in a cemetery. She didn't get the job, but she did get the idea for the Pepper Martin mystery series. Casey learned to love mysteries early thanks to her father, a Cleveland Police detective who enjoyed Sherlock Holmes stories and spent his days off searching for stolen cars—with Casey along for the ride. Later, she read her way through every mystery on the library shelves. Casey has a degree in English and a background in journalism and teaching. She is the author of two previous Pepper Martin mysteries, Don of the Dead and The Chick and the Dead, and lives in Northeast Ohio.
Praise For The Chick and the Dead: A Pepper Martin Mystery…
"The fast paced dialogue and plenty of twists keep the reader turning the pages…I can't wait to read more!"
— Shirley Damsgaard, author of WITCH WAY TO MURDER, praise for DON OF THE DEAD

"Carrie of Sex in the City going Six Feet Under with The Sopranos. Hip, original, out-of-this world fun!"
— Laura Bradley, author of SPRAYED STIFF, praise for DON OF THE DEAD

"[F]abulous! One of the funniest books I've read this year. Or last year, come to think of it."
— MaryJanice Davidson, USA Today bestselling author , praise for DON OF THE DEAD

"A smashing great read! Spice up your life with a Pepper Martin mystery!"
— Kerrelyn Sparks, author of HOW TO MARRY A MILLIONAIRE VAMPIRE, praise for DON OF THE DEAD

"A delightful read!"
— Roberta Isleib, author of FAIRWAY TO HEAVEN, praise for DON OF THE DEAD

"There's not a ghost of a chance you'll be able to put this book down. Write faster, Casey Daniels."
— Emilie Richards, USA Today bestselling author, praise for DON OF THE DEAD

"[A] charming, imaginative mystery that transcends the boundaries of time, death and predictability, peppered with some delightful romantic twists.
— Linda O. Johnstone, author of NOTHING TO FEAR BUT FERRETS, praise for DON OF THE DEAD

"A fun, light read..."
— Akron Beacon Journal