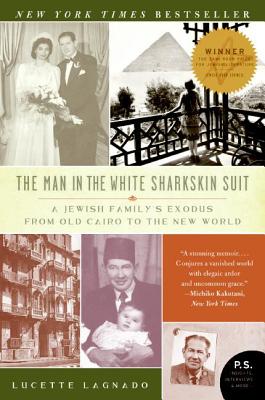 The Man in the White Sharkskin Suit (Paperback)
A Jewish Family's Exodus from Old Cairo to the New World
Ecco, 9780060822187, 368pp.
Publication Date: July 1, 2008
* Individual store prices may vary.
Description
Lucette Lagnado's father, Leon, is a successful Egyptian businessman and boulevardier who, dressed in his signature white sharkskin suit, makes deals and trades at Shepherd's Hotel and at the dark bar of the Nile Hilton. After the fall of King Farouk and the rise of the Nasser dictatorship, Leon loses everything and his family is forced to flee, abandoning a life once marked by beauty and luxury to plunge into hardship and poverty, as they take flight for any country that would have them.
A vivid, heartbreaking, and powerful inversion of the American dream, Lucette Lagnado's unforgettable memoir is a sweeping story of family, faith, tradition, tragedy, and triumph set against the stunning backdrop of Cairo, Paris, and New York.
Winner of the Sami Rohr Prize for Jewish Literature and hailed by the New York Times Book Review as a "brilliant, crushing book" and the New Yorker as a memoir of ruin "told without melodrama by its youngest survivor," The Man in the White Sharkskin Suit recounts the exile of the author's Jewish Egyptian family from Cairo in 1963 and her father's heroic and tragic struggle to survive his "riches to rags" trajectory.
About the Author
Born in Cairo, Lucette Lagnado and her family were forced to flee Egypt as refugees when she was a small child, eventually coming to New York. She is the author of The Man in the White Sharkskin Suit, for which she received the Sami Rohr Prize for Jewish Literature in 2008, and is the coauthor of Children of the Flames: Dr. Josef Mengele and the Untold Story of the Twins of Auschwitz, which has been translated into nearly a dozen foreign languages. Joining the Wall Street Journal in 1996, she has received numerous awards and is currently a senior special writer and investigative reporter. She and her husband, Douglas Feiden, reside in Sag Harbor and New York City.
Praise For The Man in the White Sharkskin Suit: A Jewish Family's Exodus from Old Cairo to the New World…
"Beautifully written.... A great personalized telling of Egypt's complicated history in the last half of the 20th century."
— Fareed Zakaria

"Like André Aciman...she conjures a vanished world with elegiac ardor and uncommon grace."
— Michiko Kakutani, New York Times

"[A] crushing, brilliant book…one final kiss from the Lagnados to their beloved city."
— New York Times Book Review

"This memoir of an Egyptian Jewish family's gradual ruin is told without melodrama by its youngest survivor."
— The New Yorker

"The resilient dignity of Lucette's family transcends the fiercest of obstacles."
— Los Angeles Times Book Review

"Lagnado gets to the heart of the modern exodus in a way only those who lived it can."
— Miami Sun Post

"Captivating…illuminates its places and times, providing indelible individual portraits...An exceptional memoir."
— Booklist (starred review)

"Excellent new memoir… One could praise Ms. Lagnado's book for many things."
— New York Sun

"Full of emotion and longing, yet never sentimental, this lyrical memoir evokes a cosmopolitan Cairo."
— Jewish Woman

"Lagnado spares nothing in the retelling…in this tender and captivating memoir."
— The Oregonian (Portland)

"It succeeds especially as a... heartfelt elegy to the long-lost Cairo community of her youth."
— Library Journal

"Nostalgic but objectively tempered portrait of a family at the heart of social and cultural upheaval."
— Kirkus Reviews

"Beautifully written . . . rich with history and insight. Wonderful."
— Oscar Hijuelos, Pulitzer Prize-winning author of THE MAMBO KINGS PLAY SONGS OF LOVE

"A stunning achievement."
— Andre Aciman, author of OUT OF EGYPT and CALL ME BY YOUR NAME

"A subtle and eloquent description of fatherly love and a mesmerizing portrait of a man shattered by the immigration experience."
— Marianne Pearl, author of A MIGHTY HEART

"Lagnado's richly textured memoir is a loving tribute to a lost man and a lost culture."
— Reform Judaism