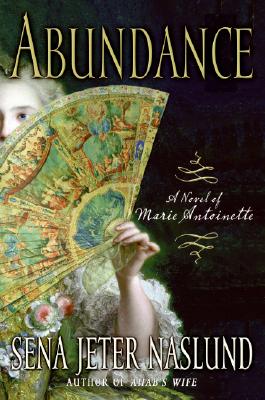 Abundance, A Novel of Marie Antoinette
Hardcover

* Individual store prices may vary.
Other Editions of This Title:
Digital Audiobook (10/2/2006)
Paperback (5/22/2007)
Description
"Like everyone, I am born naked."
With this opening line of Naslund's compelling new novel, a very human Marie Antoinette invites readers to live her story as she herself experiences it. From the lush gardens of Versailles to the lights and gaiety of Paris, the verdant countryside of France, and finally the stark and terrifying isolation of a prison cell, the young queen's life is joyful, poignant, and harrowing by turns. As her world of unprecedented royal splendor crumbles, the charming Marie Antoinette matures into a heroine of inspiring stature, one whose nobility arises not from the circumstance of her birth but from her courageous spirit.
Marie Antoinette was a child of fourteen when her mother, the Empress of Austria, arranged for her to leave her family and her country to become the wife of the fifteen-year-old Dauphin, the future King of France. Coming of age in the most public of arenas, the young queen embraces her new family and the French people, and she is embraced in return. Eager to be a good wife and strong queen, she shows her new husband nothing but love and encouragement, though he repeatedly fails to consummate their marriage and in doing so, fails to give her the thing she—and the people of France—desire most: a child and an heir to the throne.
Deeply disappointed and isolated in her own intimate circle apart from the social life of the court, the queen allows herself to remain ignorant of the country's growing economic and political crises. She entrusts her soul to her women friends, her music teacher, her hairdresser, the ambassador from Austria, and a certain Swedish count so handsome that admirers label him "the Picture." When her innocent and well-chaperoned pilgrimage to watch the sun rise is viciously misrepresented in satiric pamphlets as a drunken orgy, the people begin to turn against her. Poor harvests, bitter winters, war debts, and poverty precipitate rebellion and revenge as the royal family and many nobles are caught up in a murderous time known as "the Terror."
With penetrant insight into new historical scholarship and with wondrous narrative skill, Naslund offers an intimate, fresh, and dramatic re-creation of this compelling woman that goes beyond popular myth. Abundance reveals a compassionate and spontaneous Marie Antoinette who rejected the formality and rigid protocol of the court; an enchanting and tenderhearted outsider who was loved by her adopted homeland and people until she became the target of revolutionary cruelty and violence; a dethroned queen whose depth of character sustained her in even the worst of times.
Once again, Sena Jeter Naslund has shed new light on an important moment of historical change and made that time as real to us as the one we are living now. Exquisitely detailed, beautifully written, heartbreaking and powerful, Abundance is a novel that is impossible to put down.
Praise For Abundance, A Novel of Marie Antoinette…
"Sumptuous...gripping...beautifully poignant. If you read one book about Marie Antoinette, let it be Sena Jeter Naslund's."
— USA Today

"Enchanting...Opulent and fabulous, as encrusted with detail as one of Marie's shimmering dresses...a complete page turner. Grade: A"
— Entertainment Weekly

"Exceptional...A richly detailed portrait of an opulent, turbulent time. 4 stars."
— People

"Perceptive and literate."
— Richmond Times-Dispatch

"Opulent. . . . Recreates the glories of Versailles and the political malice that wafts through its many doorways."
— Daily News

"Naslund recreates Marie so sympathetically that we can't help aching for the queen."
— Washington Post

"The novel is abundant, full of color and detail. . . . An engaging portrait of one of history's bright-colored butterflies."
— Atlanta Journal-Constitution

"A wealth of period details...even the most cynical reader will wish for a last-minute pardon."
— Christian Science Monitor

"Intensive historical inquiry enables Naslund to re-create Marie Antoinette's life with empathy and irresistibly piquant detail."
— Seattle Times

"Naslund mixes historical observation with delight and tension that makes it hard not to turn the page."
— San Diego Union-Tribune

"Fascinating...A richly detailed look at the doomed queen."
— Seattle Post-Intelligencer

"With skillful dialogue Naslund re-creates a time and place fresh and fearsome."
— Milwaukee Journal Sentinel

"Both a realistic and romantic novel (with) immediately engaging characters...offers a rich, panoramic depiction of an age."
— Raleigh News & Observer

"Hypnotically intimate…With vivid detail and exquisite narrative technique, Naslund exemplifies the best of historical fiction."
— Publishers Weekly (starred review)

"Naslund's writing is rich with minute details that put the reader into the world of Versailles. A page-turner."
— Birmingham News

"An enthralling work of fiction, one that captures the details of a family reign and a time period long gone."
— Pittsburgh Post-Gazette

"The portrait that emerges is sympathetic but realistic...Absorbing."
— Columbus Dispatch

"ABUNDANCE is intelligent, beautifully written, and uncomfortably relevant, and Naslund makes her heroine convincing and even sympathetic."
— Boston Globe

"Intimate experiences and thoughts run beautifully rampant through the pages...[a] smart delicious lesson in history."
— Fort Worth Star-Telegram

"Naslund uses her words as if they were a camera to record life in late 18th century France."
— Sunday Denver Post

"Scrupulously researched and vividly presented . . . it's an irresistible story and Naslund handles its big moments with impressive assurance."
— Kirkus Reviews (starred review)

"An absorbing, detailed read."
— Buffalo News

"Readers of serious historical fiction will revel in it."
— Booklist (starred review)

"Lush with description and deep with historical detail...Marvelous."
— Library Journal
William Morrow, 9780060825393, 560pp.
Publication Date: October 3, 2006
About the Author
Sena Jeter Naslund is a cofounder and program director of the Spalding University (Louisville) brief-residency MFA in Writing, where she edits The Louisville Review and Fleur-de-Lis Press. A winner of the Harper Lee Award and the Southeastern Library Association Fiction award, she is the author of eight previous works of fiction, including Ahab's Wife, a finalist for the Orange Prize. She recently retired from her position as Distinguished Teaching Professor at the University of Louisville.
or
Not Currently Available for Direct Purchase