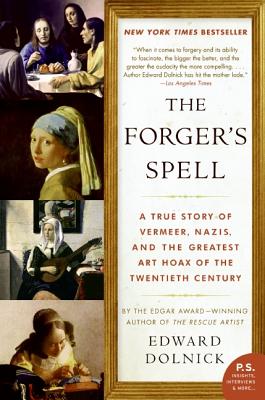 The Forger's Spell (Paperback)
A True Story of Vermeer, Nazis, and the Greatest Art Hoax of the Twentieth Century
Harper Perennial, 9780060825423, 384pp.
Publication Date: June 16, 2009
* Individual store prices may vary.
Description
As riveting as a World War II thriller, The Forger's Spell is the true story of three men and an extraordinary deception: the revered artist Johannes Vermeer; the small-time Dutch painter who dared to impersonate him years later; and the con man's mark, Hermann Goering, the fanatical art collector and one of Nazi Germany's most reviled leaders.
About the Author
Edward Dolnick is the author of Down the Great Unknown, The Forger's Spell, and the Edgar Award-winning The Rescue Artist. A former chief science writer at the Boston Globe, he lives with his wife near Washington, D.C.
Praise For The Forger's Spell: A True Story of Vermeer, Nazis, and the Greatest Art Hoax of the Twentieth Century…
"When it comes to forgery and its ability to fascinate . . . Edward Dolnick has hit the mother lode. . . . Dolnick more than does it justice, drawing on his knowledge of a wide range of subjects."
— Los Angeles Times

"Dolnick brilliantly re-creates the circumstances that made possible one of the most audacious frauds of the 20th century. And in doing so Dolnick plumbs the nature of fraud itself . . . an incomparable page turner."
— Boston Globe

"Riveting new art thriller. . . . Likely to captivate not just readers moved by war, art, and the art of deception, but anyone interested in human vanity and our sometimes baffling ability to see only what we want to see."
— Christian Science Monitor

"The Forger's Spell is an excellent read, a swift and astute narrative written from many complex perspectives to great effect."
— Chicago Sun-Times

"Dolnick…tells his story engagingly and with a light touch. He has a novelist's talent for characterization, and he raises fascinating questions."
— New York Times Book Review

"An engaging and highly amusing account of a clever craftsman. . . . On all those levels this is a delightful foray into art history and psychology"
— St. Louis Post-Dispatch

"Gripping historical narrative. . . . Dolnick, a veteran science writer, knows his way around a canvas. . . . The Forger's Spell has raised provocative questions about the nature of art and the psychology of deception."
— Washington Post Book World

"This is the first book on art forgery that really gets to the bottom of the Han van Meegeren tale of chicanery and double dealing. A spirited and provocative read."
— Thomas Hoving

"Edward Dolnick's Forger's Spell gives us a well-researched and highly readable account of the underworld of forgers, corrupt dealers, and collectors in Nazi occupied Europe. . . . Wonderful theater, full of fascinating stories, this is a great cautionary tale for all in the art world."
— Lynn Nicholas

Who can resist the story of a great scam--especially when the mark is art-greedy Hermann Goering and the author is an Edgar winner?
— Publishers Weekly (Staff Picks)

Vividly portrays a staggeringly successful Dutch art forger. . . . Dolnick covers it all. . . . Dolnick's zesty, incisive, and entertaining inquiry illuminates the hidden dimensions and explicates the far-reaching implications of this fascinating and provocative collision of art and ambition, deception and war.
— Booklist

Mesmerizing account. . . . Dolnick brings his expertise in art theft, criminal psychology and military history to a scintillating portrait. . . . Polished, fast-paced narrative. . . . Compelling prose. . . . Energetic and authoritative.
— Kirkus Reviews (starred review)

"A fascinating analysis of the forger's technique and a perceptive discussion of van Meegeren's genius at manipulating people. . . . Compelling look at how a forger worked his magic."
— Publishers Weekly (starred review)

"This account by Dolnick…is especially strong in plot development and characterization. It also has a unique point of view"
— Library Journal

"Dolnick weaves a lot of fascinating information into a highly readable narrative. . . . The Forger's Spell is a terrific story."
— Newsday

"Pacing and prose as gripping as those of the best mystery novelist. . . . The Forger's Spell is simply spellbinding."
— Philadelphia Inquirer