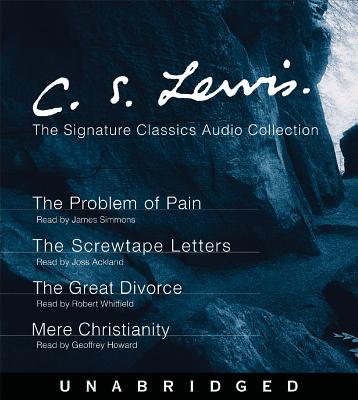 C.S. Lewis: The Signature Classics Audio Collection: The Screwtape Letters, the Great Divorce, the Problem of Pain, Mere Christianity (Compact Disc)
The Signature Classics Audio Collection: The Screwtape Letters, the Great Divorce, the Problem of Pain, Mere Christianity
HarperAudio, 9780060825782, 17pp.
Publication Date: October 4, 2005
Description
Using allegoric narrative, stinging satire, reasoned insight, and his signature wealth of compassion, C.S. Lewis wrote highly entertaining and deeply illuminating essays and books of popular theology that revealed the shared beliefs of Christianity and explored the nature of good and evil. This collection of four of his most imaginative and intelligent works displays a scintillating brilliance that remains strikingly fresh and confirms C.S. Lewis's reputation as one of the leading writers and thinkers of our or any age.
Collection includes:
The Problem of Pain Read by James Simmons
The Screwtape Letters Read by Joss Ackland
The Great Divorce Read by Robert Whitfield
Mere Christianity Read by Geoffrey Howard
Advertisement