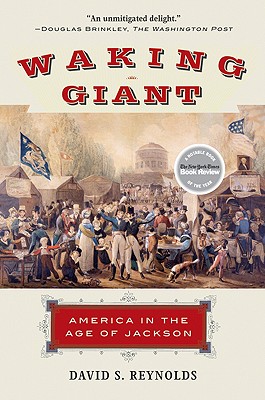 Waking Giant: America in the Age of Jackson (Paperback)
America in the Age of Jackson
Harper Perennial, 9780060826574, 466pp.
Publication Date: September 29, 2009
Description
Waking Giant is a brilliant, definitive history of America's vibrant and tumultuous rise during the Jacksonian era from David S. Reynolds, the Bancroft Prize-winning author of Walt Whitman's America. Casting fresh light on Andrew Jackson, who redefined the presidency, along with John Quincy Adams and James K. Polk, who expanded the nation's territory and strengthened its position internationally, Reynolds captures the turbulence of a democracy caught in the throes of the controversy over slavery, the rise of capitalism, and the birth of urbanization.
Praise For Waking Giant: America in the Age of Jackson…
"It's Reynolds's depiction of an exploding popular culture that makes Waking Giant an unmitigated delight. . . . An intellectual history and group portrait of America turning from a republic to a popular democracy during the Age of Jackson."
-Douglas Brinkley, The Washington Post Book World

"Mr. Reynolds brings this remarkable man to life. . . . A terrific introduction of succinct length to a period in our history that was once ignored, a period increasingly recognized as a time when the foundations of much of modern America were laid."
-John Steele Gordon, The New York Times

"As David Reynolds shows in his astute and concise history of the period, Waking Giant, the times defined Jackson as much as he defined the times."
-Slate

"A remarkable synthesis, impressive on many levels. . . . Reynolds applies his vast erudition to a period too often treated as mere prelude to the country's most destructive war. . . . Reynolds is most adept handling the period's art and literature. . . ."
-Kirkus Reviews (starred review)

"Offers a fine addition to the literature on pre-Civil War American history in this account of the years 1815-1848. . . Even knowledgable readers will relish the chapters on social history. . . . Reynolds delivers a straightforward, insightful history of America during its bumptious adolescence."
-Publishers Weekly

"Bancroft Prize winner Reynolds has produced a thorough chronicle of America from 1815 to 1848. . . . His book will appeal to general history buffs and American studies students. Highly recommended."
-Library Journal

"A really good volume of history provides the reader with a keen sense of perspective and a genuine appreciation of the past. This is exactly what David S. Reynolds does in Waking Giant: America in the Age of Jackson."
-BookPage

"Kaleidoscopic. . . . The result of Reynolds' research is a happy mosaic of an era that may well be, just as the author suggests, the 'richest' in American history."
-The Wall Street Journal

"A lively account. . . . Reynolds devotes close to half the text to an illuminating appreciation of the Jacksonian influence on literature and art, with shorter discussions on religion and popular fads."
-The Boston Globe

"Reynolds writes history as entertainingly as anyone out there and Waking Giant is no exception."
-The Providence Journal

"Reynolds asks us to more carefully consider the brawling, chaotic, boisterous years from 1815 to 1848 as a fascinating age in its own right. In this he succeeds handsomely. . . . Engaging and insightful."
-Jay Winik, The New York Times Book Review

"Excellent. . . . Outstanding. . . . Expansive. . . . Jackson and his presidency figure large in Mr. Reynolds' account."
-The Dallas Morning News

"Excellent. . . . Outstanding. . . . Expansive. . . . Jackson and his presidency figure large in Reynolds' account."
-The Philadelphia Inquirer

"An engaging new book. . . . Waking Giant is at its most entertaining when Reynolds sifts through the nonpolitical world, tracking the rise of abolitionists, feminists, utopians, union leaders, and more than a few crackpots."
-The Christian Science Monitor
Advertisement