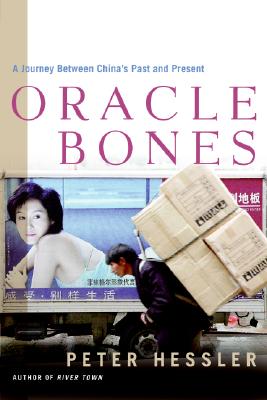 Oracle Bones (Hardcover)
A Journey Between China's Past and Present
Harper, 9780060826581, 512pp.
Publication Date: April 25, 2006
Other Editions of This Title:
Paperback (5/8/2007)
* Individual store prices may vary.
Description
From the acclaimed author of River Town comes a rare portrait, both intimate and epic, of twenty-first-century China as it opens its doors to the outside world.
A century ago, outsiders saw Chinaas a place where nothing ever changes. Today the coun-try has become one of the most dynamic regions on earth. That sense of time—the contrast between past and present, and the rhythms that emerge in a vast, ever-evolving country—is brilliantly illuminated by Peter Hessler in Oracle Bones, a book that explores the human side of China's transformation.
Hessler tells the story of modern-day China and its growing links to the Western world as seen through the lives of a handful of ordinary people. In addition to the author, an American writer living in Beijing, the narrative follows Polat, a member of a forgotten ethnic minority, who moves to the United States in searchof freedom; William Jefferson Foster, who grew up in an illiterate family and becomes a teacher; Emily,a migrant factory worker in a city without a past; and Chen Mengjia, a scholar of oracle-bone inscriptions, the earliest known writing in East Asia, and a man whosetragic story has been lost since the Cultural Revolution. All are migrants, emigrants, or wanderers who find themselves far from home, their lives dramatically changed by historical forces they are struggling to understand.
Peter Hessler excavates the past and puts a remarkable human face on the history he uncovers. In a narrative that gracefully moves between the ancient and the present, the East and the West, Hessler captures the soul of a country that is undergoing a momentous change before our eyes.
About the Author
Peter Hessler is a staff writer at The New Yorker, where he served as the Beijing correspondent from 2000 to 2007, and is also a contributing writer for National Geographic. He is the author of River Town, which won the Kiriyama Prize; Oracle Bones, which was a finalist for the National Book Award; and, most recently, Country Driving. He won the 2008 National Magazine Award for excellence in reporting, and he was named a MacArthur Fellow in 2011. He lives in Cairo.
Praise For Oracle Bones: A Journey Between China's Past and Present…
"A remarkable travelogue documenting aspects of a country still little understood."
— Kirkus (starred review)

"Everyone in the Western world should read this book."
— Publishers Weekly, (starred review)

"Hessler has written a fascinating and frequently moving account of life in modern China."
— Booklist

"A brilliant observer with a novelist's ear for character and dialogue, Hessler is both fascinating and funny."
— Entertainment Weekly

"Wonderful. . . . Intimate. . . . The book reads like a really good novel."
— Minneapolis Star Tribune

"Insightful. . . . Hessler is a wry and witty writer who manages to bring humor even to tense situations."
— Christian Science Monitor

"Engaging. . . . Acutely observed, moving, frequently funny and a perspicacious X-ray of China's zeitgeist."
— South China Morning Post

"An extraordinary, genre-defying book. . . . Beautifully constructed. . . . Hessler's reportage is vivid."
— Nigel Richardson, The Daily Telegraph
or
Not Currently Available for Direct Purchase