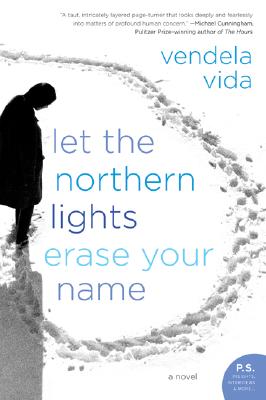 Let the Northern Lights Erase Your Name (Paperback)
Harper Perennial, 9780060828387, 226pp.
Publication Date: January 2, 2008
Description
On the day of her father's funeral, twenty-eight-year-old Clarissa Iver-ton discovers that he wasn't her biological father after all. Her mother disappeared fourteen years earlier, and her fiance has just revealed a life-changing secret to her. Alone and adrift, Clarissa travels to mystical Lapland, where she believes she'll meet her real father. There, at a hotel made of ice, Clarissa is confronted with the truth about her mother's his-tory, and must make a decision about how--and where--to live the rest of her life.
Praise For Let the Northern Lights Erase Your Name…
"Vida gives the icy landscape and eerie, forbidding beauty and her writing has…great emotional acuity."
-The New Yorker

Reading this book reminded me...how rarely a writer as precise, artful, and passionate as Vendela Vida comes along.
-George Saunders, author of IN PERSUASION NATION

Searing and beautiful...[Clarissa] is funny and fearless and absolutely unforgettable--just like this marvelous book.
-Ann Packer, author of THE DIVE FROM CLAUSEN'S PIER

"A taut, intricately layered page-turner that looks deeply and fearlessly into matters of profound human concern."
-Michael Cunningham, Pulitzer Prize-winning author of THE HOURS

"A haunted, moving, gorgeous novel. It glows from within like a building made of snow."
-Andrew Sean Greer, author of THE CONFESSIONS OF MAX TIVOLI

"A luminescent and evocative tale of grief, free of the standard clichés."
-Kirkus Reviews (starred review)

"Intimate and sweeping, LET THE NORTHERN LIGHTS ERASE YOUR NAME dazzles like sun on snow."
-Sean Wilsey, author of OH THE GLORY OF IT ALL

"Taut, understated, and compelling"
-Seattle Post-Intelligencer

"[A] stirring novel…as alive and fascinating as the brilliant atmospheric phenomenon of its title."
-Chicago Tribune

"[Vida's] stripped-down, modern approach at its best applies a wash of freshness, even innocence to age-old questions."
-San Francisco Chronicle Book Review
Advertisement