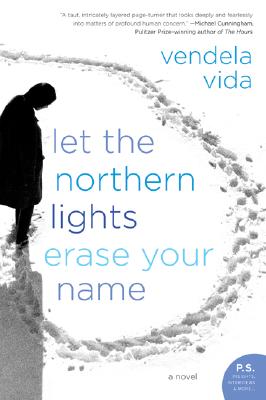 Let the Northern Lights Erase Your Name
A Novel
Paperback

* Individual store prices may vary.
Description
On the day of her father's funeral, twenty-eight-year-old Clarissa Iver­ton discovers that he wasn't her biological father after all. Her mother disappeared fourteen years earlier, and her fiancé has just revealed a life-changing secret to her. Alone and adrift, Clarissa travels to mystical Lapland, where she believes she'll meet her real father. There, at a hotel made of ice, Clarissa is confronted with the truth about her mother's his­tory, and must make a decision about how—and where—to live the rest of her life.
Praise For Let the Northern Lights Erase Your Name: A Novel…
"Vida gives the icy landscape and eerie, forbidding beauty and her writing has…great emotional acuity." — The New Yorker
Reading this book reminded me...how rarely a writer as precise, artful, and passionate as Vendela Vida comes along. — George Saunders, author of IN PERSUASION NATION
Searing and beautiful...[Clarissa] is funny and fearless and absolutely unforgettable--just like this marvelous book. — Ann Packer, author of THE DIVE FROM CLAUSEN'S PIER
"A taut, intricately layered page-turner that looks deeply and fearlessly into matters of profound human concern." — Michael Cunningham, Pulitzer Prize-winning author of THE HOURS
"A haunted, moving, gorgeous novel. It glows from within like a building made of snow." — Andrew Sean Greer, author of THE CONFESSIONS OF MAX TIVOLI
"A luminescent and evocative tale of grief, free of the standard clichés." — Kirkus Reviews (starred review)
"Intimate and sweeping, LET THE NORTHERN LIGHTS ERASE YOUR NAME dazzles like sun on snow." — Sean Wilsey, author of OH THE GLORY OF IT ALL
"Taut, understated, and compelling" — Seattle Post-Intelligencer
"[A] stirring novel…as alive and fascinating as the brilliant atmospheric phenomenon of its title." — Chicago Tribune
"[Vida's] stripped-down, modern approach at its best applies a wash of freshness, even innocence to age-old questions." — San Francisco Chronicle Book Review
Ecco, 9780060828387, 256pp.
Publication Date: January 2, 2008
About the Author
Vendela Vida is the award-winning author of six books, including Let the Northern Lights Erase Your Name and The Diver's Clothes Lie Empty. Her new novel, We Run the Tides, will be published by Ecco on February 9, 2021. She is a founding editor of The Believer and coeditor of The Believer Book of Writers Talking to Writers and Confidence, or the Appearance of Confidence, a collection of interviews with musicians. She was a founding board member of 826 Valencia, the San Francisco writing center for youth, and lives in the Bay Area with her family.