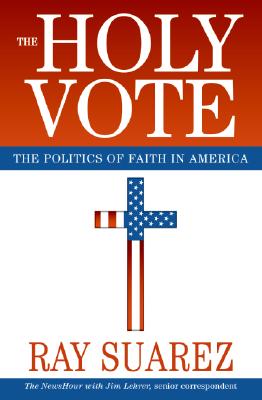 The Holy Vote
The Politics of Faith in America
Hardcover

* Individual store prices may vary.
Other Editions of This Title:
Paperback (11/13/2007)
Description
The Holy Vote examines the way Americans worship, how organized religion and politics intersect in America, and how this powerful collision is transforming the current and future American mind-set
Not since the Civil War has the United States been sopolarized—politically and ideologically. But at the very heart of this fracture is a fascinating rig and paradoxical marriage between our country's politics and religions.
Over the past several election cycles, the differences between so-called "Red America"—conservative, church-affiliated, suburban, and rural—and "Blue America"—urban, secular, and socially liberal—have hardened. Although on most days, these two big American mainstreams move on parallel tracks, they increasingly find themselves head to head, ready to fight at the slightest offense. They react to new stories in different ways. They react to government power in different ways. They certainly vote in different ways.
With The Holy Vote, Ray Suarez explores the advent of this polarization and how it is profoundly changing the way in which we live our lives. With hands-on reporting, Suarez explores the attitudes and beliefs of the people behind the voting numbers, the places in which these new beliefs are being born, and how the political divide is manifesting itself across the country. The reader will come to a greater understanding of how Americans believe, and how this belief structure fuels the debates that dominate the issues on our evening news.
Rayo, 9780060829971, 336pp.
Publication Date: August 29, 2006
About the Author
Ray Suarez is a senior correspondent for The NewsHour with Jim Lehrer. He came to the NewsHour from NPR's Talk of the Nation, and prior to that he spent seven years covering local, national, and international news for an NBC affiliate in Chicago.
or
Not Currently Available for Direct Purchase