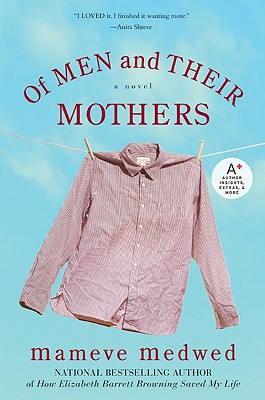 Of Men and Their Mothers
Paperback

* Individual store prices may vary.
Description
All men have mothers . . .
It's a truth that the newly unhyphenated Maisie Grey has learned the hard way. After getting rid of her mama's-boy husband, she happily settles down with her teenage son, Tommy. But she's still stuck with the hovering presence of her impossible mother-in-law, Tommy's grandmother, who refuses to exit the family stage gracefully.
Trying to keep it together with her own business and a new relationship with a man who still lives in—where else but?—his mother's house, Maisie struggles to learn from the MIL-from-hell. She vows that when Tommy brings someone home, she'll be loving, empathetic, and supportive. But then along comes completely unsuitable September Silva—with her too-short skirts, black nail polish, and stay-out-all-night attitude—who is forcing Maisie to take a flinty, clear-eyed new look at what it means to be a mother.
Praise For Of Men and Their Mothers…
"The mother-in-law...Does she still have any power left after decades of pummeling? In Mameve Medwed's new novel, 'Of Men and Their Mothers,' she certainly does. Ina Pollack, Maisie Grey's loathsome ex-mother-in-law, can raise the reader's pulse with a single phone call." — New York Times Book Review
William Morrow Paperbacks, 9780060831226, 304pp.
Publication Date: April 21, 2009
About the Author
Mameve Medwed is also the author of Mail, Host Family, The End of an Error, and How Elizabeth Barrett Browning Saved My Life (which received a 2007 Massachusetts Book Honor Award). Her stories, essays, and reviews have appeared in many publications including the Missouri Review, Redbook, the Boston Globe, Yankee, the Washington Post, and Newsday. Born in Maine, she and her husband have two sons and live in Cambridge, Massachusetts.
Are mother/son relationships more fraught than daughter/son ones?
Both Rex and Gabriel are mama's boys. What's the difference between them?
Is Maisie doomed to repeat history with Gabriel? Does the influence of a man's mother linger after she's dead? How do you predict things will work out for Maisie and Gabriel?
Should Maisie have taken in September—what would you have done? What is the best way to deal with a son's girlfriend you disapprove of?
Did Maisie handle the powder in the backpack in a reasonable way? Can you suggest alternatives?
Some of you may know that Seamus is a repeat character from Mameve Medwed's first novel. Does or does that not work for you? Does his presence add something?
How do the symbols of breast milk and chicken potpies take on meaning throughout the book?
How did Maisie's mentoring of Darlene change Darlene? And change Maisie, too?
What role does class play in this novel in relationto Maisie's background, the Pollocks, Darlene and Carlene, September, Gabriel. What are the telling symbols of class—interiors, clothes, residences, and how do they work out in the course of the book. How does snobbery affect the relationships among the characters?
Name the parallels between all the mothers and sons, daughters and mothers-in-law in the book.
Is Ina Pollock truly the mother-in-law from hell or is there some redemption?
Would you consider Factotum, Inc. a suitable career for Maisie? What does this choice of profession show about Maisie other than the potential for comedy?
Who gets their just desserts? Rex, Maisie? Ina? Seamus?
How does humor work to mitigate painful things? What are the serious themes and issues in the book underlying the comedy?