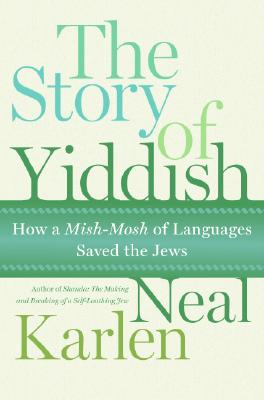 The Story of Yiddish
How a Mish-Mosh of Languages Saved the Jews
Hardcover

* Individual store prices may vary.
Other Editions of This Title:
Paperback (3/31/2009)
Description
Yiddish—an oft-considered "gutter" language—is an unlikely survivor of the ages, much like the Jews themselves. Its survival has been an incredible journey, especially considering how often Jews have tried to kill it themselves. Underlying Neal Karlen's unique, brashly entertaining, yet thoroughly researched telling of the language's story is the notion that Yiddish is a mirror of Jewish history, thought, and practice—for better and worse.
Karlen charts the beginning of Yiddish as a minor dialect in medieval Europe that helped peasant Jews live safely apart from the marauders of the First Crusades. Incorporating a large measure of antique German dialects, Yiddish also included little scraps of French, Italian, ancient Hebrew, Aramaic, the Slavic and Romance languages, and a dozen other tongues native to the places where Jews were briefly given shelter. One may speak a dozen languages, all of them Yiddish.
By 1939, Yiddish flourished as the lingua franca of 13 million Jews. After the Holocaust, whatever remained of Yiddish, its worldview and vibrant culture, was almost stamped out—by Jews themselves. Yiddish was an old-world embarrassment for Americans anxious to assimilate. In Israel, young, proud Zionists suppressed Yiddish as the symbol of the weak and frightened ghetto-bound Jew—and invented modern Hebrew.
Today, a new generation has zealously sought to explore the language and to embrace its soul. This renaissance has spread to millions of non-Jews who now know the subtle difference between a shlemiel and a shlimazel; hundreds of Yiddish words dot the most recent editions of the Oxford English Dictionary.
The Story of Yiddish is a delightful tale of a people, their place in the world, and the fascinating language that held them together.
William Morrow, 9780060837112, 336pp.
Publication Date: April 8, 2008
About the Author
Neal Karlen was speaking Yiddish at home well before he was a staff writer at Newsweek and Rolling Stone. A regular contributor to the New York Times, he has studied Yiddish at Brown University, New York's Inlingua Institute, and the University of Minnesota's Graduate School of Journalism, where he teaches nonfiction writing.
or
Not Currently Available for Direct Purchase