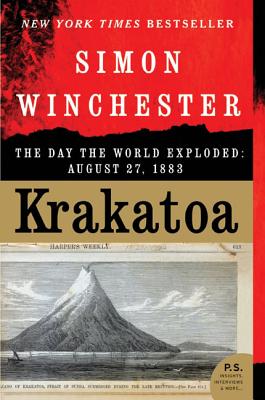 Krakatoa (Paperback)
The Day the World Exploded: August 27, 1883
Harper Perennial, 9780060838591, 464pp.
Publication Date: July 5, 2005
* Individual store prices may vary.
Description
Simon Winchester, New York Times bestselling author of The Professor and the Madman, examines the legendary annihilation in 1883 of the volcano-island of Krakatoa, which was followed by an immense tsunami that killed nearly forty thousand people. The effects of the immense waves were felt as far away as France. Barometers in Bogotá and Washington, D.C., went haywire. Bodies were washed up in Zanzibar. The sound of the island's destruction was heard in Australia and India and on islands thousands of miles away. Most significant of all -- in view of today's new political climate -- the eruption helped to trigger in Java a wave of murderous anti-Western militancy among fundamentalist Muslims, one of the first outbreaks of Islamic-inspired killings anywhere. Krakatoa gives us an entirely new perspective on this fascinating and iconic event.
This P.S. edition features an extra 16 pages of insights into the book, including author interviews, recommended reading, and more.
About the Author
Simon Winchester is the acclaimed author of many books, including The Professor and the Madman, The Men Who United the States, The Map That Changed the World, The Man Who Loved China, A Crack in the Edge of the World, and Krakatoa, all of which were New York Times bestsellers and appeared on numerous best and notable lists. In 2006, Winchester was made an officer of the Order of the British Empire (OBE) by Her Majesty the Queen. He resides in western Massachusetts.
Praise For Krakatoa: The Day the World Exploded: August 27, 1883…
"Brilliant...One of the best books ever written about the history and significance of a natural disaster."
— New York Times

"Supremely well told: a fine exception to the dull run of most geological writing." starred Kirkus Review
— Kirkus Review (starred review)

"Winchester once again demonstrates a keen knack for balancing rich and often rigorous historical detail with dramatic tension and storytelling."
— Publishers Weekly (starred review)

"A good read."
— Washington Post Book World

"Masterful build-up of literary and geological tension."
— The Economist

"A real-life story bigger than any Hollywood blockbuster."
— Entertainment Weekly

"Winchester...is noted for his ability to turn scholarly history into engrossing narrative."
— Chicago Sun-Times

"Winchester's exceptional attention to detail never falters."
— San Francisco Chronicle

"Winchester scores." (byline Baltimore Sun, printed in Pittsburg Post-Gazette)
— Baltimore Sun

"Winchester dramatically delivers...the book is absorbing..."
— Daily News

"A rattling good read."
— Boston Sunday Globe

"Krakatoa is a pleasure from beginning to end."
— Boston Sunday Globe

"The rich and fascinating KRAKATOA confirms [Winchester's] preeminence. Janet Maslin
— International Herald Tribune