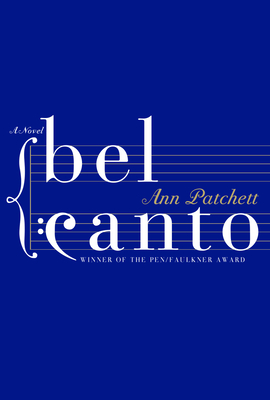 Bel Canto
Paperback

* Individual store prices may vary.
Other Editions of This Title:
Digital Audiobook (8/2/2004)
Paperback (6/10/2008)
Hardcover (5/22/2001)
Paperback, Large Print (2/17/2009)
CD-Audio (9/25/2007)
Compact Disc (6/1/2001)
Description
Winner of the PEN/Faulkner Award • Winner of the Orange Prize • National Book Critics Circle Award Finalist
"Bel Canto is its own universe. A marvel of a book." —Washington Post Book World
New York Times bestselling author Ann Patchett's spellbinding novel about love and opera, and the unifying ways people learn to communicate across cultural barriers in times of crisis
Somewhere in South America, at the home of the country's vice president, a lavish birthday party is being held in honor of the powerful businessman Mr. Hosokawa. Roxanne Coss, opera's most revered soprano, has mesmerized the international guests with her singing. It is a perfect evening—until a band of gun-wielding terrorists takes the entire party hostage. But what begins as a panicked, life-threatening scenario slowly evolves into something quite different, a moment of great beauty, as terrorists and hostages forge unexpected bonds and people from different continents become compatriots, intimate friends, and lovers.
Patchett's lyrical prose and lucid imagination make Bel Canto a captivating story of strength and frailty, love and imprisonment, and an inspiring tale of transcendent romance.

Praise For Bel Canto…
"Patchett's tragicomic novel—a fantasia of guns and Puccini and Red Cross negotiations—invokes the glorious, unreliable promises of art, politics, and love." — New Yorker
"Elegantly alluring. . . . A novel that begins with a kiss and absolutely deserves one." — Janet Maslin, New York Times
"One approaches the final pages with a heavy heart for several reasons, not the least of which being that this fine read has come to an end." — Entertainment Weekly (A-)
"Bel Canto has all the qualities one has come to expect from a classic Ann Patchett novel: grace, beauty, elegance, and magic." — Madison Smartt Bell
"Patchett's ability to evoke sense of place. . .is near magical in itself." — Publishers Weekly
"A novel that showcases [Patchett's] profound understanding of the heart." — BookForum
"This fluid and assured narrative, inspired by a real incident, demonstrates her growing maturity and mastery of form as she artfully integrates a musical theme within a dramatic story." — Publisher's Weekly
"Bel Canto by Ann Patchett should be on the list of every literate music lover. The story is riveting, the participants breathe and feel and are alive, and throughout this elegantly-told novel, music pours forth so splendidly that the reader hears it and is overwhelmed by its beauty. Ann Patchett is a special writer who has written a special book." — Lloyd Moss, WXQR
"The most romantic novel in years. A strange, terrific, spellcasting story." — San Francisco Chronicle
"Bel Canto invites readers to explore new and unfamiliar territory, to take some emotional risks rather than stand with Rolland among those 'already saved.'" — Chicago Tribune
"In more ways than one, Bel Canto is about finding beauty in unexpected places." — New York Magazine
"The author has taken what could have been a variation on the Lord of the Flies scenario and fashions instead a 'Lord of the Butterflies,' a dreamlike fable in which the impulses toward beauty and love are shown to be as irrepressible as the instincts for violence and destruction." — New York Magazine
"Patchett can be counted on to deliver novels rich in imaginative bravado and psychological nuance." — Publishers Weekly
"You'll find a few hours of entertainment and maybe even a strange yearning to be kidnapped." — Time Out New York
"A book that works both as a paean to art and beauty and a subtly sly comedy of manners." — The New York Times
"Combining an unerring instinct for telling detail with the broader brushstrokes you need to tackle issues of culture and politics, Patchett creates a remarkably compelling chronicle of a multinational group of the rich and powerful held hostage for months." — Kirkus Reviews
"Bel Canto moves elegantly through its paces, captors and captivates alike stumble on that most elusive liberty: the freedom to be." — New York Daily News
"A provocative and enchanting look at the power art has to suspend real life and to create a better world, one in which the differences between people can be erased and the barriers to our best selves can be hurdled." — Detroit Free Press
"Blissfully romantic... with engaging wit and brilliant writing about love, Patchett has crafted a seductive, romantically charged novel..." — San Fransisco Chronicle
"Positively spellbinding." — Seattle Times
"Bel Canto is its own universe. A marvel of a book." — Washington Post Book World
Harper Perennial, 9780060838720, 352pp.
Publication Date: August 2, 2005
About the Author
ANN PATCHETT is the author of eight novels, four works of nonfiction, and two children's books. She has been the recipient of numerous awards, including the PEN/Faulkner, the Women's Prize in the U.K., and the Book Sense Book of the Year. Her most recent novel, The Dutch House, was a finalist for the Pulitzer Prize. Her work has been translated into more than thirty languages. TIME magazine named her one of the 100 Most Influential People in the World. She lives in Nashville, Tennessee, where she is the co-owner of Parnassus Books.
1. Describe Roxane Coss. What is it about her that makes such an impression on the other hostages and the terrorists? Is it merely that she is famous? How does her singing and the music relate to the story?
2. Even though he is given the opportunity to leave the mansion, Father Arguedas elects to stay with the hostages. Why does he decide to stay when he risks the possibility of being killed? As the narrative states, why did he feel, "in the midst of all this fear and confusion, in the mortal danger of so many lives, the wild giddiness of good luck?" (pg. 74). Isn't this an odd reaction to have given the situation? What role does religion play in the story?
3. There are numerous instances in the story where Mr. Hosokawa blames himself for the hostages' situation. He says to Roxane, "But I was the one who set this whole thing in motion." Roxane replies with the following: "Or did I?" she said. "I thought about declining…. Don't get me wrong. I am very capable of blame. This is an event ripe for blame if I ever saw one. I just don't blame you." Is either one to blame for the situation? If not, who do you think is ultimately responsible?
4. Roxane and Mr. Hosokawa speak different languages and require Gen to translate their conversations. Do you think it's possible to fall in love with someone to whom you cannot speak directly?
5. "Roxane Coss and Mr. Hosokawa, however improbable to those around them, were members of the same tribe, the tribe of the hostages…. But Gen and Carmen were another matter" (pg. 294). Compare the love affairs of Gen and Carmen and Roxane and Mr. Hosokawa. What are the elements that define each relationship?
6. We find out in the Epilogue that Roxane and Gen have been married. How would you describe their relationship throughout the story? Thibault believes that "Gen and Roxane had married for love, the love of each other and the love of all the people they remembered" (pg. 318). What do you think of the novel's ending? Did it surprise you? Do you agree with Thibault's assessment of Gen and Roxane's motivations for marrying?
7. The garua, the fog and mist, lifts after the hostages are in captivity for a number of weeks. "One would have thought that with so much rain and so little light the forward march of growth would have been suspended, when in fact everything had thrived" (pg. 197). How does this observation about the weather mirror what is happening inside the Vice President's mansion?
8. At one point Carmen says to Gen, "'Ask yourself, would it be so awful if we all stayed here in this beautiful house?'" (pg. 206). And towards the end of the story it is stated: "Gen knew that everything was getting better and not just for him. People were happier." Messner then says to him, "'You were the brightest one here once, and now you're as crazy as the rest of them'" (pg. 302). What do you think of these statements? Do you really believe they would rather stay captive in this house than return to the "real" world?
9. When the hostages are finally rescued, Mr. Hosokawa steps in front of Carmen to save her from a bullet. Do you think Mr. Hosokawa wanted to die? Once they all return to their lives, it would be nearly impossible for him to be with Roxane. Do you think he would rather have died than live life without her?
10. The story is told by a narrator who is looking back and recounting the events that took place. What do you think of this technique? Did it enhance the story, or would you have preferred the use of a straight narrative?