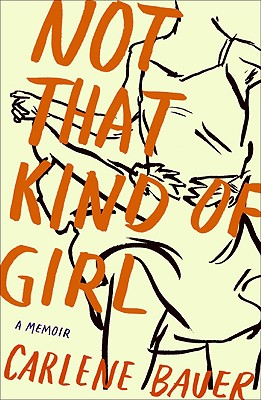 Not That Kind of Girl: A Memoir (Hardcover)
A Memoir
Harper, 9780060840549, 288pp.
Publication Date: August 1, 2009
* Individual store prices may vary.
or
Not Currently Available for Direct Purchase
Description
A moving, witty, and intelligent memoir of one woman's quest to find the answers to life's biggest questions
Raised in evangelical churches that preached apocalypse now, Carlene Bauer grows up happy to oblige the God who presides over her New Jersey girlhood. But in high school and college, her intellectual and spiritual horizons widen, and she becomes skeptical of the judgmental God she's been given. Still, she finds it hard to let go of the ideals she's been raised with, and to rebel as she knows she should. She loves rock and roll, but politely declines offers of sex and drugs; she thinks the Bible and the Norton Anthology of American Literature are equally authoritative guides to life. Since there are no churches worshipping the Jesus Paul Westerberg sang about in "Can't Hardly Wait," and no tidy categories for those who are neither riot grrrls nor altar girls, she hovers between a hunger for the world and a suspicion of it.
In her twenties, however, determined to make up for lost time, Bauer undertakes a belated and often comic coming-of-age in New York City. Between late blooming at parties and staying late at work, it seems that she might become as bold as she'd hoped to be—even if the late blooming is a little more hapless than highly erotic. And yet the city and its pleasures do not distract her from another hope: that she might learn how to have a faith that she can truly call her own. Enter the Catholic Church, and a conversion. But then she falls in love, and loses her religion—which leaves her wondering just what it means to be good.
Sharply written, hilarious, and touching, Not That Kind of Girl is the story of one young woman's efforts to define worldliness, ambition, and love on her own terms—while believing in, among other things, The Smiths, Virginia Woolf, and the transformative power of New York City. Fellow restless seekers will find solace in Bauer's struggle to create meaning in the face of overwhelming doubt, and fall in love with the highly original voice at the center of this unforgettable debut.
Praise For Not That Kind of Girl: A Memoir…
"The tension between the sacred and the secular permeates every page of this heartfelt memoir. . . . Poignantly describe[s] the grace and beauty of ordinary moments."
-Publishers Weekly
Advertisement