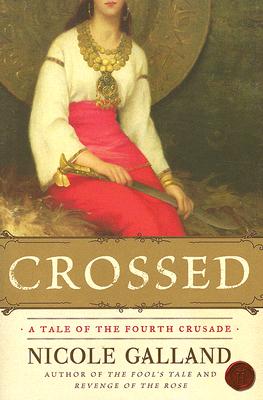 Crossed
A Tale of the Fourth Crusade
Paperback

* Individual store prices may vary.
Description
In the year 1202, tens of thousands of crusaders gather in Venice, preparing to embark for Jerusalem to free the Holy City from Muslim rule. Among them is a lowly vagabond Briton, rescued from damnation by a pious knight who burns with zealous fire for their sacred undertaking. And so they set sail, along with dedicated companions—and with a beautiful, mysterious Arab "princess" whom the vagabond liberates from a brutish merchant. But the divine light guiding their "righteous" campaign soon darkens as the mission sinks ever deeper into catastrophe, disgrace, and moral turpitude—as Christians murder Christians in the Adriatic port city of Zara, tragic events are set in motion that will ultimately lead to the shocking and shameful fall of Constantinople.
Impeccably researched and beautifully told, Nicole Galland's Crossed is a stunning tale of the disastrous Fourth Crusade—and of the hopeful, brave, and driven who were caught up in and irrevocably changed by a corrupted cause and a furious battle beyond their comprehension or control.
Praise For Crossed: A Tale of the Fourth Crusade…
"A clever novel of courtly love . . . entertains with a flourish." — Publishers Weekly
"A tasty fictional stew, mixing elements of twelfth-century culture together skillfully to produce a veritable reading feast . . . .The combination of vicious politics, mysterious doings, betrayals, and double-dealing, added to a leisurely but engaging plot, will keep those pages turning." — Booklist
"A tasty fictional stew. . . . A veritable reading feast." — Booklist on Revenge of the Rose
"A wallop of a first novel—entertaining and engaging." — San Francisco Chronicle on The Fool's Tale
"[A] funny (really!) look at this disastrous Crusade through the eyes of a wacky Welshman, a pious knight and his half-brother and an Arab princess (who isn't what she seems) they hope to return to her Egyptian home. It's a raucous road trip set in the 13th century." — New York Post
"[A]ttention to detail and humor keeps the novel both exhaustive and hilarious...Nicole Galland is exceptionally well versed in the fine nuances of storytelling and illustrating the combustible nature of mixing religion, commerce and war." — St. Petersburg Times (Florida)
"[A]t once an idiot's guide to the tangled geopolitical landscape of 13th century and a clear and stern indictment of contemporary events...Thick with delectable historical details." — Martha's Vineyard Times on CROSSED
William Morrow Paperbacks, 9780060841805, 672pp.
Publication Date: February 5, 2008
About the Author
Nicole Galland is the author of the historical novels Godiva; I, Iago; Crossed, Revenge of the Rose; and The Fool's Tale; as well as the contemporary romantic comedies On the Same Page and Stepdog, and the New York Times bestselling near-future thriller The Rise and Fall of D.O.D.O. (with Neal Stephenson).
Discuss the title of the book. What are all the possible applications of the word crossed to the events and characters of the story?
Do you consider the most sympathetic character in the story? Why?
Which character behaves the most honorably throughout? Why?
If you were to find yourself in this story, which of the five main characters would you most resemble in outlook and action? (This might be a different response than questions 2 or 3.)
Discuss the differences of the two narrators – in their character and background; their morality and values and belief-systems; their story-telling styles.
Discuss Dandolo's comments near the end of the book about the fall of empires. Does this seem like a purely historical observation, or are there possible implications about today's world as well?
Discuss Jamila's dilemma of having to choose whether she will remain with a man she loves or return to her community. What do you think of the choice she makes, and what choice would you make in her position?
What do you think is implied by the end of the epilogue: that the Briton has found a way to join the Jewish community, or that he and Jamila have gone off on their own?
There are strong parallels between the Fourth Crusade and the current situation in Iraq, but the author emphasizes these parallels infrequently in the text itself. How often, if ever, did such parallels occur to you as you were reading?
Who is a better ruler, Dandolo or Boniface? Why?
or
Not Currently Available for Direct Purchase