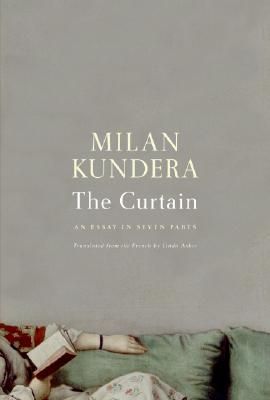 The Curtain (Hardcover)
An Essay in Seven Parts
HarperCollins, 9780060841867, 176pp.
Publication Date: February 1, 2007
Other Editions of This Title:
Digital Audiobook (9/24/2012)
Paperback (12/26/2007)
* Individual store prices may vary.
Description
"A magic curtain, woven of legends, hung before the world," writes Milan Kundera in The Curtain, his fascinating new book on the art of the novel. "Cervantes sent Don Quixote journeying and tore through the curtain. The world opened before the knight-errant in all the comical nakedness of its prose." For Kundera, that curtain represents a ready-made perception of the world that each of us has--a pre-interpreted world. The job of the novelist, he argues, is to rip through the curtain and reveal what it hides.
In this entertaining and always stimulating essay, Kundera cleverly sketches out his personal view of the history and value of the novel in Western civilization. Too often, he suggests, a novel is thought about only within the confines of the language and nation of its origin, when in fact the novel's development has always occurred across borders: Laurence Sterne learned from Rabelais, Henry Fielding from Cervantes, Joyce from Flaubert, Garcia Marquez from Kafka. The real work of a novel is not bound up in the specifics of any one language: what makes a novel matter is its ability to reveal some previously unknown aspect of our existence. In The Curtain, Kundera skillfully describes how the best novels do just that.
Praise For The Curtain: An Essay in Seven Parts…
"Kundera offers witty and edifying improvisations on.favorite themes.Anyone interested in the novel will delight in this book."
-Alec Solomita, New York Sun

"Lovely, meandering observations on the genre to which he has consecrated his life.Like good love stories, it pulls you in."
-Philadelphia Inquirer

"Kundera.argues brilliantly.Discarding chronology, Kundera lets us witness the inner workings of his....wonderful reader's mind."
-Cecile Alduy, San Francisco Chronicle

"A work of sophisticated literary cartography.agreeably studded with insights."
-Joseph Epstein, Wall Street Journal

"Essential reading in a long history of debates about the genre...Wise, deep, and witty."
-New York Review of Books

"Evocative...Kundera marvelously conducts us on a journey through the history of the novel."
-Library Journal

"Well-worth reading.witty and brisk and very smart, like all of [Kundera's] writing."
-William Deresiewicz, The Nation

"Kundera's essay so perfectly distilles an approach to art that it realigns the way an art form is understood."
-Publishers Weekly (starred review)

"Brilliant, vehement, learned and wise.Stimulating and provocative.THE CURTAIN raises essential questions."
-Salon.com

"An elegant, personalized integration of anecdote, analysis, scholarship, memory and speculation...Kundera's opinions...are well worth listening to."
-Russell Banks, New York Times Book Review

"Bursting at the seams with ideas.Kundera dashes irrepressibly around his own studio...to consistently fascinating effect. A rare pleasure."
-Steven Poole, New Statesman

"A swiftly told, beautifully crafted, pleasurable...scrutiny of the novel ...To Mr. Kundera, the novel is a liberating force."
-The Economist

"Kundera is assuredly one of the great living writers.This is a remarkable book..Absorbing and sometimes sublime."
-Buffalo News

"As the French expression goes, Kundera always gives you furiously to think.[He] writes.with passion."
-Michael Dirda, Washington Post Book World
or
Not Currently Available for Direct Purchase