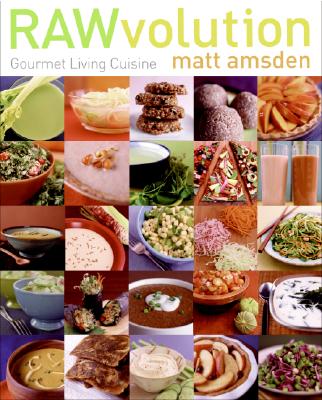 RAWvolution (Hardcover)
Gourmet Living Cuisine
William Morrow, 9780060843182, 224pp.
Publication Date: July 3, 2006
* Individual store prices may vary.
Description
Following a vegan, raw foods diet does not mean you have to give up your favorite delicacies or condemn yourself to a life of celery and carrot sticks. As renowned raw foods chef Matt Amsden reveals in this vibrant, inspiring book, raw cuisine represents the discovery and innovative use of luscious natural ingredients. From imaginative new dishes such as cactus salad, onion bread, and spirulina pie, to tantalizing variations on everything from pizza, tacos, and cookies, to the signature "Big Matt with Cheese," Amsden's mouthwatering recipes feature soups, sauces, salads, appetizers, entrees, and even desserts.
More than a cookbook, RAWvolution is the indispensable, all-inclusive guide to the many powerful benefits of raw food. Beginning with his personal account of "How I Went Raw," Amsden shares essential advice, information, and encouragement for adopting a raw foods lifestyle. His delectable recipes are organized by type, level of difficulty, and what equipment, if any, is necessary in their creation. Accessible to both beginners and experienced cooks, RAWvolution addresses everyone from vegetarians who want to take the next step in natural cuisine, to those who simply want to diversify and improve their everyday diet.
There has never been a more important time to incorporate raw foods into your lifestyle. Raw, vegan cuisine is making news daily, providing healthy and nutritious alternatives that are changing lives. Best of all, raw food can be delicious. There is no need to sacrifice flavor for bland and boring "health" food. Enliven your senses and taste buds instead with rich, living cuisine.
About the Author
Matt Amsden has quickly established himself as one of the premier raw food chefs in south-ern California and the world. Matt's company, RAWvolution, is the first of its kind, delivering gourmet raw food meals throughout the United States. Originally from Ontario, Canada, Matt began eating a diet of 100 percent raw foods virtually overnight after hearing an interview with author/lecturer David Wolfe on the Howard Stern Show. Matt's desire to learn more about raw food preparation led him to Santa Monica, California, the heart of the raw food movement, where he soon began to share his talent with hundreds of people, including celebrities such as Margaret Cho, Woody Harrelson, Courtney Love, and Alicia Silverstone.
or
Not Currently Available for Direct Purchase