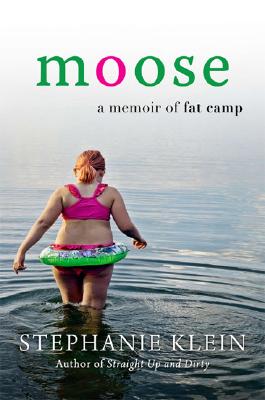 Moose
A Memoir of Fat Camp
Hardcover

* Individual store prices may vary.
Other Editions of This Title:
Paperback (6/9/2009)
Description
With her signature acerbic wit and captivating insight, the author of the wildly popular Straight Up and Dirty offers a powerful and beautifully stark portrait of adolescence
While she is pregnant with twins, one sentence uttered by her doctor sends Stephanie Klein reeling: "You need to gain fifty pounds." Instantly, an adolescence filled with insecurity and embarrassment comes flooding back. Though she is determined to gain the weight for the health of her babies—even if it means she'll "weigh more than a Honda"—she can only express her deep fear by telling her doctor simply, "I used to be fat."
Klein was an eighth grader with a weight problem. It was a problem at school, where the boys called her "Moose," and it was a problem at home, where her father reminded her, "No one likes fat girls." After many frustrating sessions with a nutritionist known as the fat doctor of Roslyn Heights, Long Island, Klein's parents enrolled her for a summer at fat camp. Determined to return to school thin and popular, without her "lard arms" and "puckered ham," Stephanie embarked on a memorable journey that would shape more than just her body. It would shape her life.
In the ever-shifting terrain between fat and thin, adulthood and childhood, cellulite and starvation, Klein shares the cutting details of what it truly feels like to be an overweight child, from the stinging taunts of classmates, to the off-color remarks of her own father, to her thin mother's compulsive dissatisfaction with her own body. Calling upon her childhood diary entries, Klein reveals her deepest thoughts and feelings from that turbulent, hopeful time, baring her soul and making her heartache palpable.
Whether Klein is describing her life as a chubby adolescent camper—getting weighed on a meat scale, petting past curfew, and "chunky dunking" in the lake—or what it's like now as a fit mother, having one-sided conversations with her newborn twins about the therapy they'll one day need, this hilarious yet grippingly vulnerable book will remind you what it was like to feel like an outsider, to desperately seek the right outfit, the right slang, the best comeback, or whatever that unattainable something was that would finally make you fit in.
Praise For Moose: A Memoir of Fat Camp…
"Candid . . . inspiring . . . With vivid characterizations, spot-on locale descriptions and sly jokes at her own expense, Klein offers an original and touching take on the all-too-common problem of childhood obesity."
— Kirkus Reviews

"The memoir, which mixes painful revelations with amusing anecdotes, teems with details, like the sixth-grade Spanish class in which the teacher told students to identify themselves as fat or thin."
— New York Times

"A candid, touching memoir . . . It'll make you laugh—and cry."
— hungry-girl.com

"Klein intersperses surprisingly touching observations with crackling, punny lexicon. Grade: A–"
— Entertainment Weekly, for Straight Up and Dirty

"Klein is a talented writer who tells the story of her love life with boldness and irreverence."
— USA Today, for Straight Up and Dirty

"Klein's appeal comes not just from her nocturnal wonderings, but from her relentless plumbing of what went wrong in her twenties and how those mistakes inform her present."
— Elle, for Straight Up and Dirty

"Klein's sense of humor is downright wicked…a great, fun read."
— Publishers Weekly, for Straight Up and Dirty

"Nothing, it seems, is too private not to share with . . . Ms. Klein's legions of followers. And that is exactly how they like it. . . . [She is] the Carrie Bradshaw of New York bloggers."
— New York Times, for Straight Up and Dirty

"Hilarious . . . perfect beach-blanket reading."
— New York Post, for Straight Up and Dirty

"You could call her 'a real-life Carrie Bradshaw,' but it wouldn't do Klein justice. With a fearless voice, the blogger weaves a memoir filled with heartbreak and humor… a compelling writer."
— People, for Straight Up and Dirty
William Morrow, 9780060843298, 320pp.
Publication Date: May 27, 2008
About the Author
Blogger and author Stephanie Klein was born and raised in New York. She now lives in Austin, Texas, with her husband and children.
or
Not Currently Available for Direct Purchase