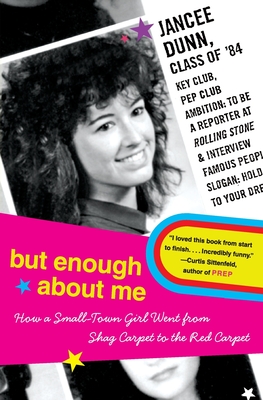 But Enough About Me
How a Small-Town Girl Went from Shag Carpet to the Red Carpet
Paperback

* Individual store prices may vary.
Description
New Jersey in the 1980s had everything Jancee Dunn wanted: trips down the shore, Bruce Springsteen, a tantalizing array of malls. To music lover Jancee, New York City was a foreign country. So it was with bleak expectations that she submitted her résumé to Rolling Stone magazine. And before she knew it, she was backstage and behind the scenes with the most famous people in the world—hiking in Canada with Brad Pitt, snacking on Velveeta with Dolly Parton, dancing drunkenly onstage with the Beastie Boys—trading her good-girl suburban past for late nights, hipster guys, and the booze-soaked rock 'n' roll life.
Riotously funny and tremendously touching, But Enough About Me is the amazing true story of an outsider who couldn't quite bring herself to become an insider.
Praise For But Enough About Me: How a Small-Town Girl Went from Shag Carpet to the Red Carpet…
"Disarmingly funny." — People
"Relentlessly readable." — New York Magazine
"Breezy…juicy…irresistable…as entertaining as the megastars [Dunn] has built a career on profiling." — Entertainment Weekly
"A fresh look at our star constellations. . . . Dunn brings a fan's enthusiasm to her showbiz profiles." — USA Today
"[A] hilarious, gushy, totally gratifying memoir." — DailyCandy.com
"Pitch-perfect." — Vogue
"Hilarious tales of a career spent chronicling life on the A list." — Rolling Stone
"Delightful" — Daily News
"A touching, laugh-out-loud memoir." — New Jersey Star Ledger
"I loved this book from start to finish ... Jancee Dunn is a wonderful storyteller." — Curtis Sittenfeld, author of PREP
"Hilarious -- you won't be able to keep from reading the whole thing." — Matthew Klam, author of SAM THE CAT
It Books, 9780060843656, 288pp.
Publication Date: June 26, 2007
About the Author
A writer for Rolling Stone since 1989, Jancee Dunn was a correspondent for Good Morning America and an MTV veejay. She has written for GQ, Vogue, Vanity Fair, Harper's Bazaar, the New York Times, and other publications.