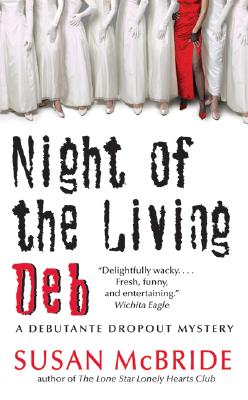 Night of the Living Deb (Mass Market)
A Debutante Dropout Mystery (Debutante Dropout Mysteries #4)
Avon, 9780060845551, 352pp.
Publication Date: January 30, 2007
* Individual store prices may vary.
Description
Renegade rich girl Andy Kendricks isn't the belle of any Dallas ball—and that's just the way the debutante dropout likes it! She's got a good life and a great man: her defense attorney boyfriend, Brian Malone. Brian's such a straight arrow that he had to be dragged kicking and screaming to a close friend's bachelor party at a sleazy local "gentleman's club."
So why is the groom-to-be saying that Brian left the bacchanal arm-in-arm with "the hottest body in the Lone Star State?" And what was that hot body doing stone-cold dead in the trunk of Brian's car? And where is Brian anyway? The cops are looking for Andy's allegedly unfaithful/possibly homicidal beau who hasn't been seen since the party. But Andy can't believe her upstanding lover is a murdering fool, and she's determined to prove it—though she might end up with a lot more broken than just her heart.
About the Author
Susan McBride is the USA Today bestselling author of Blue Blood and the Debutante Dropout Mysteries that include The Good Girl's Guide to Murder, The Lone Star Lonely Hearts Club, Night of the Living Deb, Too Pretty to Die, and Say Yes to the Death. She also writes the bestselling River Road Mysteries and has penned three women's fiction titles: The Truth About Love and Lightning, Little Black Dress, and The Cougar Club. She chronicled her bout with breast cancer in the short memoir, In the Pink: How I Met the Perfect (Younger) Man, Survived Breast Cancer, and Found True Happiness After Forty. She lives in St. Louis, Missouri, with her husband and daughter.
Praise For Night of the Living Deb: A Debutante Dropout Mystery (Debutante Dropout Mysteries #4)…
"NIGHT OF THE LIVING DEB is McBride at her best: lively, endearing, funny, and with moments of genuine suspense."
— Charlaine Harris

"Eccentric characters with killer wits populate this mystery. Reluctant heiress Andy Kenrick is spunky and intrepid..."
— Romantic Times BOOKclub

"Chatty, colorful and très Texas, McBride's latest cozy is a pleasure."
— Publishers Weekly, praise for THE LONE STAR LONELY HEART'S CLUB

"[A]s alluring as an Escada evening dress and as tempting as a slice of death-by-chocolate cake
— Publishers Weekly, praise for THE GOOD GIRL'S GUIDE TO MURDER

"[A] fast-paced and engrossing tale of murder and romance."
— Kathy Samuels, Romance Reviews Today, praise for THE GOOD GIRL'S GUIDE TO MURDER

"Absolutely wonderful! Highly recommended."
— K. Blair for HuntressReviews.com (5 stars), praise for THE GOOD GIRL'S GUIDE TO MURDER

"Funny, compelling like a good soap opera and boasts an extremely likeable heroine."
— Romantic Times, praise for THE GOOD GIRL'S GUIDE TO MURDER

"Light and frothy as a latte, THE GOOD GIRL'S GUIDE TO MURDER is one sweet mystery."
— Elaine Viets, praise for THE GOOD GIRL'S GUIDE TO MURDER

"Wonderful and fascinating...[S]it back and let Andy take you on a fascinating trip through Chanel-land."
— Sally Fellows for The Mystery Bookstore (Omaha), praise for THE GOOD GIRL'S GUIDE TO MURDER

"[A] sharp, witty, totally enjoyable book. Thumbs up for a great read!"
— Mary Neal, TheBestReviews.com, praise for THE GOOD GIRL'S GUIDE TO MURDER

"[A] funny, eccentric bunch of characters."
— Dallas Morning News, praise for BLUE BLOOD

"Susan McBride's Debutante Dropout Mysteries are as fun and fizzy as champagne."
— Nancy Martin, praise for BLUE BLOOD

"Susan McBride kept me laughing all the way through this delicious romp of a mystery."
— Tess Gerritsen, praise for BLUE BLOOD

"Susan McBride has an engaging new heroine in Andrea Kendricks."
— Thomas Perry, praise for BLUE BLOOD

"Off to a smashing start...keeps the reader smiling."
— Monterey County Post, praise for BLUE BLOOD

"McBride has created a delightfully wacky amateur detective in BLUE BLOOD. The writing is fresh, funny, and entertaining."
— Wichita Eagle, praise for BLUE BLOOD

"Andrea Kendricks...is a treasure."
— Charlaine Harris, praise for BLUE BLOOD

"All mystery readers should applaud!"
— Jerrilyn Farmer, praise for BLUE BLOOD

"BLUE BLOOD is delightful, witty and oh-so-proper (not!). Susan McBride has Dallas society on its designer-clad toes!"
— Carolyn Tillery, Society Editor, Park Cities People, praise for BLUE BLOOD

"BLUE BLOOD is a wry, dead-on social commentary masquerading as a can't-put-it-down mystery. Highly recommended...."
— John Westermann, praise for BLUE BLOOD

"BLUE BLOOD has it all--suspense, humor, friendship, snobbery and televangelists...BLUE BLOOD is positively gripping."
— Sarah Strohmeyer, praise for BLUE BLOOD

"A very witty and clever mystery...I, for one, can't wait for the next installment."
— Sauce Magazine (St. Louis), praise for BLUE BLOOD

"A totally fun ride...McBride has created a fresh new voice that fans of the genre undoubtedly will enjoy."
— Romantic Times BOOKclub, praise for BLUE BLOOD

"A fast-paced, humorous debut with a likeable heroine."
— Mystery Scene, praise for BLUE BLOOD
or
Not Currently Available for Direct Purchase