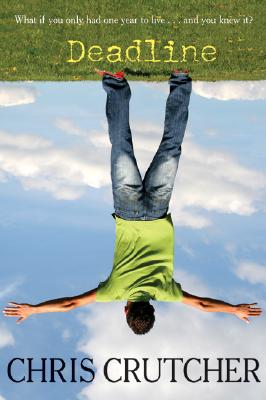 Deadline
Hardcover

* Individual store prices may vary.
Other Editions of This Title:
Paperback (4/21/2009)
Description
Ben Wolf has big things planned for his senior year. Had big things planned. Now what he has is some very bad news and only one year left to make his mark on the world.
How can a pint-sized, smart-ass seventeen-year-old do anything significant in the nowheresville of Trout, Idaho?
First, Ben makes sure that no one else knows what is going on—not his superstar quarterback brother, Cody, not his parents, not his coach, no one. Next, he decides to become the best 127-pound football player Trout High has ever seen; to give his close-minded civics teacher a daily migraine; and to help the local drunk clean up his act.
And then there's Dallas Suzuki. Amazingly perfect, fascinating Dallas Suzuki, who may or may not give Ben the time of day. Really, she's first on the list.
Living with a secret isn't easy, though, and Ben's resolve begins to crumble . . . especially when he realizes that he isn't the only person in Trout with secrets.
Greenwillow Books, 9780060850890, 320pp.
Publication Date: September 18, 2007
About the Author
Chris Crutcher has written nine critically acclaimed novels, an autobiography, and two collections of short stories. Drawing on his experience as a family therapist and child protection specialist, Crutcher writes honestly about real issues facing teenagers today: making it through school, competing in sports, handling rejection and failure, and dealing with parents. He has won three lifetime achievement awards for the body of his work: the Margaret A. Edwards Award, the ALAN Award, and the NCTE National Intellectual Freedom Award. Chris Crutcher lives in Spokane, Washington.