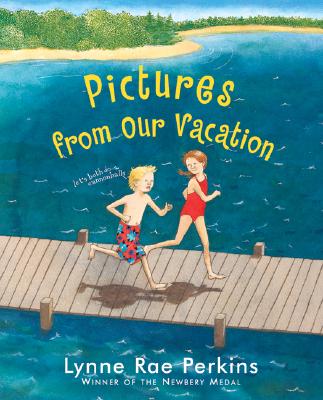 Pictures from Our Vacation (Hardcover)
Greenwillow Books, 9780060850975, 32pp.
Publication Date: April 24, 2007
Other Editions of This Title:
Library Binding (5/1/2007)
* Individual store prices may vary.
Description
Snap!
With their new cameras
Snap!
a brother and sister
Snap!
take pictures of their vacation.
But when they look at their photographs they see:
1. The back of Dad's head
2. Feet
3. A container of noodles

That's it?
Does 1 + 2 + 3 = summer vacation?
What about how it felt to swim in the lake? What about the stories their cousins told and the taste of a just-invented strawberry and whipped cream dessert?
For those memories—the memories of summer and the memories of family that mean the most—they need to look someplace else. Someplace deep inside. Someplace permanent.
About the Author
Lynne Rae Perkins was awarded the Newbery Medal for Criss Cross. She is the author of four other novels—All Alone in the Universe, As Easy as Falling Off the Face of the Earth, Nuts to You, and Secret Sisters of the Salty Sea. Lynne Rae Perkins has also written and illustrated several acclaimed picture books, including Frank and Lucky Get Schooled; The Broken Cat; Snow Music: Pictures from Our Vacation; and The Cardboard Piano. The author lives with her family in northern Michigan. www.lynnerae.com
Lynne Rae Perkins was awarded the Newbery Medal for Criss Cross. She is the author of four other novels—All Alone in the Universe, As Easy as Falling Off the Face of the Earth, Nuts to You, and Secret Sisters of the Salty Sea. Lynne Rae Perkins has also written and illustrated several acclaimed picture books, including Frank and Lucky Get Schooled; The Broken Cat; Snow Music: Pictures from Our Vacation; and The Cardboard Piano. The author lives with her family in northern Michigan. www.lynnerae.com