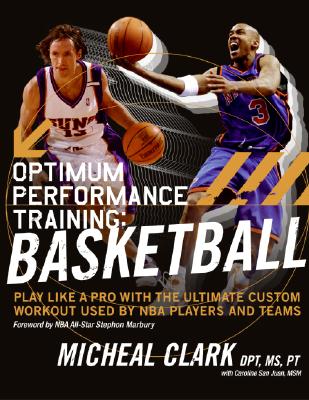 Optimum Performance Training
Basketball: Play Like a Pro with the Ultimate Custom Workout Used by NBA Players and Teams
Paperback

* Individual store prices may vary.
Description
An easy-to-use fitness assessment guide and personalized workout to dramatically increase anyone's basketball skills.
Micheal Clark virtually wrote the book that personal trainers all over the country use to gain their certification in the field. As creator of the Optimum Performance Training system, he took personal training to a whole new level by introducing a program that could be fully customized for any sport. In this book, Clark will enable readers through his "self-assessment and design fitness system" to effectively pinpoint the weaknesses in their basketball skills and tailor a workout program that will improve on all the flaws in their game. By taking advantage of skill-specific tests, readers will be able to focus their workout time on the area they most need and will see quick results.
This user-friendly guide begins with a simple five-step assessment to help you realize what your game lacks. Whether you want explosiveness off the first step like Lebron James, the iron-man endurance of Steve Nash, the coordination and flexibility of Kevin Garnett, the vertical leap of Vince Carter, or the muscle strength of Amare Stoudemire, you'll pinpoint your deficiencies and benefit from the exact same workout that Clark uses for the NBA's biggest stars.
Clark's revolutionary approach to fitness and conditioning personalizes the workouts not only by sport, but also by performance skills, and will help you become the best basketball player you can be. With customizable workouts, sets, and reps, everyone from basketball fanatics to weekend warriors can find the program just right for them, and get the extra skills to crash the boards, run the court, and power their way down the lane for all four quarters.
Praise For Optimum Performance Training: Basketball: Play Like a Pro with the Ultimate Custom Workout Used by NBA Players and Teams…
"OPT training is a huge benefit. It has a cumulative effect. If your body is more receptive every night, it's going to help you over the long term."
— Steve Nash
Harper Perennial, 9780060852238, 208pp.
Publication Date: December 27, 2005
About the Author
Micheal Clark is the creator of the Optimum Performance Training method for the National Academy of Sports Medicine, used by thousands of athletic and personal trainers and athletes worldwide. He also serves as an adjunct faculty member in the Master of Science program in Injury Prevention and Performance Enhance-ment at the California University of Pennsylvania. He lives in Calabasas, California.