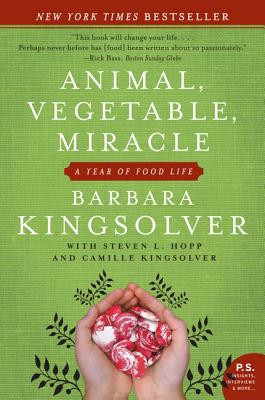 Animal, Vegetable, Miracle
A Year of Food Life
Paperback

* Individual store prices may vary.
Other Editions of This Title:
Digital Audiobook (4/30/2007)
CD-Audio (5/1/2007)
Hardcover (5/1/2007)
Spring/Summer '09 Reading Group List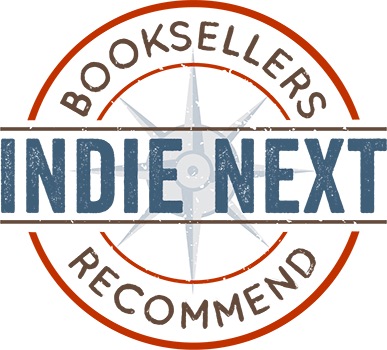 "Barbara Kingsolver's account of buying only food raised in her own neighborhood speaks to us all about the urgency of living on, and in, our respective communities."
— Betsy Goree, The Book Shelf, Tryon, NC
View the List
Description
Author Barbara Kingsolver and her family abandoned the industrial-food pipeline to live a rural life--vowing that, for one year, they'd only buy food raised in their own neighborhood, grow it themselves, or learn to live without it. Part memoir, part journalistic investigation, Animal, Vegetable, Miracle is an enthralling narrative that will open your eyes in a hundred new ways to an old truth: You are what you eat.
Praise For Animal, Vegetable, Miracle: A Year of Food Life…
"Charming, zestful, funny and poetic…a serious book about important problems."
-Washington Post Book World

"Charming . . . Literary magic . . . If you love the narrative voice of Barbara Kingsolver, you will be thrilled."
-Houston Chronicle

"ANIMAL, VEGETABLE, MIRACLE makes an important contribution to the chorus of voices calling for change.""
-Chicago Tribune

"If you...buy...one book this summer, make it this one...As satisfying and complete as a down home supper."
-Tucson Citizen

"Engaging…Absorbing…Lovely food writing…[Kingsolver] succeeds at adopting the warm tone of a confiding friend."
-Corby Kummer, New York Times Book Review

"A lovely book. "
-Los Angeles Times

"[Written] with passion and hope…This novelist paints a compelling big picture-broad and ambitious, with nary an extraneous stroke."
-Rocky Mountain News

"Homespun, unassuming, informed, positive, inspiring. . . . Unstinting in its concerns about this imperiled planet."
-Seattle Post-Intelligencer

"A profound, graceful, and literary work . . . Timeless. . . . It can change who you are."
-Rick Bass, Boston Globe

"Classy and disarming, substantive and entertaining, earnest and funny....Kingsolver takes the genre to a new literary level."
-Publishers Weekly (starred review)

"Kingsolver elegantly chronicles a year of back-to-the-land living…Readers...will take heart and inspiration here."
-Kirkus Reviews

"Kingsolver beautifully describes this experience."
-More Magazine

"Kingsolver dresses down the American food complex…These down-on-the-farm sections are inspiring and…compelling."
-Outside magazine

"Faithful, funny, and thought-provoking...Readers-whether vegetarian or carnivore-will not go hungry, literally or literarily."
-BookPage

"Equal parts folk wisdom and political activism . . . This family effort instructs as much as it entertains."
-St. Louis Post-Dispatch

"Full…of zest and sometimes ribald humor… Reading this book will make you hungry."
-Raleigh News & Observer

"Lessons learned in sustainability are worth feasting on-and taking to heart."
-Self

"Every bit as transporting as-and more ecologically relevant than-any "Year In Provence"-style escapism...Earthy...informative....[and] englightened."
-Washington Post

"Provocative . . . Kingsolver . . . evokes the sheer joy of producing one's own food."
-People

"An impassioned, sensual, smart and witty narrative…Kinsolver is a master at leavening a serious message with humor."
-St. Petersburg Times

"Wry, insightful and inspiring to anyone who yearns to work with the earth."
-Chicago Tribune (on the audiobook)

"Kingsolver…adds enough texture and zest to stir wistful yearnings in all of us...[A] vicarious taste of domesticity."
-Christian Science Monitor

"A terrific effort. The delight for readers…is the chance to experience the rediscovery of community through food."
-The Oregonian (Portland)

"Kingsolver, who writes evocatively about our connection to place, does so here with characteristic glowing prose. She provides the rapture."
-Miami Herald

"If you're interested in learning more about healthful eating, you'll want to read…ANIMAL, VEGETABLE, MIRACLE."
-Charlotte Observer

"Loaded with terrific information about everything from growth hormones to farm subsidies."
-Entertainment Weekly

"Kingsolver carries us along in her distinct and breezy prose."
-Milwaukee Journal Sentinel

"I defy anyone to read this book and walk away from it without gaining at least the desire to change."
-Bookreporter.com

"Charming...and persuasive...Each season-and chapter-unfolds with a natural rhythm and mouth-watering appeal."
-Milwaukee Journal Sentinel

"Anyone who read and appreciated THE OMNIVORE'S DILEMMA by Michael Pollan will want to read Barbara Kingsolver's book."
-Roanoke Times

"[This] is a book that, without being preachy, makes a solid case for eating locally instead of globally."
-Richmond Times-Dispatch

"Highly digestible…Engaging."
-Ellen Goodman, Boston Globe

"Other notable writers have addressed this topic, but Kingsolver claims it as her own....Self-deprecating instead of self-righteous."
-Charlotte Observer

"Delectable . . . steeped in elegant prose and seasoned with smart morsels about the food industry."
-Chicago Tribune

"[Kingsolver is] a master storyteller, and even those who've heard this tale before will be captivated."
-Daily News

"ANIMAL, VEGETABLE, MIRACLE is a chronicle of food feats…I'm inclined to agree with most points Kingsolver makes."
-Chicago Sun-Times
Harper Perennial, 9780060852566, 370pp.
Publication Date: April 29, 2008
What was your perception of America's food industry prior to reading Animal, Vegetable, Miracle? What did you learn from this book? How has it altered your views on the way food is acquired and consumed?
In what ways, if any, have you changed your eating habits since reading Animal, Vegetable, Miracle? Depending on where you live—in an urban, suburban, or rural environment—what other steps would you like to take to modify your lifestyle with regard to eating local?
"It had felt arbitrary when we sat around the table with our shopping list, making our rules. It felt almost silly to us in fact, as it may now seem to you. Why impose restrictions on ourselves? Who cares?" asks Kingsolver in Animal, Vegetable, Miracle. Did you, in fact, care about Kingsolver's story and find it to be compelling? Why or why not? What was the family's aim for their year-long initiative, and did they accomplish that goal?
The writing of Animal, Vegetable, Miracle was a family affair, with Kingsolver's husband, Steven L. Hopp, contributing factual sidebars and her daughter, Camille Kingsolver, serving up commentary and recipes. Did you find that these additional elements enhanced the book? How so? What facts or statistics in Animal, Vegetable, Miracle surprised you the most?
How does each member of the Kingsolver-Hopp family contribute during their year-long eating adventure? Were you surprised that the author's children not only participated in the endeavor but that they did so with such enthusiasm? Why or why not?
"A majority of North Americans do understand, at some level, that our food choices are politically charged," says Kingsolver, "affecting arenas from rural culture to international oil cartels and global climate change." How do politics affect America's food production and consumption? What global ramifications are there for the food choices we make?
Kingsolver advocates the pleasures of seasonal eating, but she acknowledges that many people would view this as deprivation "because we've grown accustomed to the botanically outrageous condition of having everything always." Do you believe that American society can—or will— overcome the need for instant gratification in order to be able to eat seasonally? How does Kingsolver present this aspect in Animal, Vegetable, Miracle? Did you get the sense that she and her family ever felt deprived in their eating options
Kingsolver points out that eating what we want, when we want comes "at a price." The cost, she says, "is not measured in money, but in untallied debts that will be paid by our children in the currency of extinctions, economic unravelings, and global climate change." What responsibility do we bear for keeping the environment safe for future generations? How does eating locally factor in to this?
Kingsolver asserts that "we have dealt to today's kids the statistical hand of a shorter life expectancy than their parents, which would be us, the ones taking care of them." How is our "thrown-away food culture" a detriment to children's health? She also says, "We're raising our children on the definition of promiscuity if we feed them a casual, indiscriminate mingling of foods from every season plucked from the supermarket." What responsibility do parents have to teach their children about the value and necessity of a local food culture?
In what ways do Kingsolver's descriptions of the places she visited on her travels—Italy, New England, Montreal, and Ohio—enhance her portrayal of local and seasonal eating?
"Marketing jingles from every angle lure patrons to turn our backs on our locally owned stores, restaurants, and farms," says Kingsolver. "And nobody considers that unpatriotic." How much of a role do the media play in determining what Americans eat? Discuss the decline of America's diversified family farms, and what it means for the country as a whole.
or
Not Currently Available for Direct Purchase