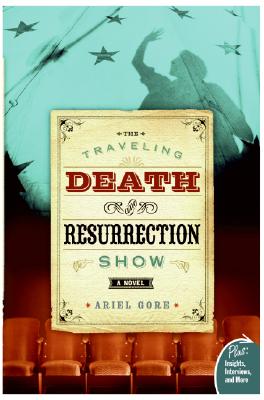 The Traveling Death and Resurrection Show
A Novel
Paperback

* Individual store prices may vary.
Description
Orphaned at age four and raised by her black-clad, rosary-mumbling, preoccupied grandmother, Frankka discovered the ability to perform the stigmata as a way to attract her grandmother's attention. Now twenty-eight, Frankka's still using this extraordinary talent, crisscrossing the country with "The Death and Resurrection Show," a Catholic-themed traveling freak show and cast of misfits who have quickly become her new family. But when a reporter from the Los Angeles Times shows up to review the show, Frankka finds herself on the front page of the newspaper -- the unwitting center of a religious debate. Now unsure of who she is and where she belongs, Frankka disappears in search of herself and a place to call home.
Praise For The Traveling Death and Resurrection Show: A Novel…
"A bold and imaginative story."
— Michelle Tea, author of Rose of No Man's Land and Valencia

"This novel is a miracle—deliciously subversive and deeply spiritual, all at once."
— Gayle Brandeis, author of Fruitflesh: Seeds of Inspiration for Women Who Write, and The Book of Dead Birds: A Novel

"Finally! A new batch of icons, provided by Ariel Gore in this fun, readable, adventure story."
— Jennifer Blowdryer, author of White Trash Debutante and Good Advice for Young Trendy People of All Ages

"With a dash of Catholic mysticism mixed with the underground freak show scene, Gore creates a fascinating and inventive odyssey."
— Beth Lisick, author of Everybody into the Pool

"Inventive, loopy, and warm, Gore's debut novel is shot through with one-liner gems..."
— Joy Castro, author of The Truth Book

"[A] savvy rebuke of religious bigotry and a fun, fast, memorable read. Highly recommended."
— Library Journal

"[An] earnest but fresh journey through the travails of a performing stigmatic."
— Publishers Weekly

"An affecting tale about the search for home, connection and authenticity."
— Christopher Castellani, author of The Saint of Lost Things

"Piercing and insightful, Gore's first novel limns one woman's complicated relationship with her religion and her personal faith."
— Booklist

"Incredibly satisfying!"
— Stacie Williams, Harry W. Schwartz Bookshop, Milwaukee, WI

"A beautiful tale of spiritual self-discovery. … that is respectful of religion even as it pokes fun at it."
— Seattle Magazine

"As stories about Catholicism-heckling mystical punk circuses go, this is the best."
— San Francisco Weekly

"A compelling premise. …beautiful passages...."
— The Oregonian (Portland)

"Great buzz with its blend of outlandish characters, outsized happenings and surprising takes on Catholic faith."
— Seattle Post-Intelligencer

"A modern passion play that compares favorably to the rotating scenes of Santa Cruz street life."
— The Santa Cruz Sentinel

"Ariel Gore's debut novel is a hilarious tale of levitating drag queens, spontaneous stigmata, and bearded ladies."
— Bust Magazine

"Gore is a spirited and imaginative storyteller; her words sparkle with life and carry the reader along …."
— Arkansas Democrat-Gazette

"A beguiling first novel..."
— Los Angeles Times

"A story of religious reawakening that's at times irreverent, yet accepting of tradition and faith."
— Relevant Magazine
HarperOne, 9780060854287, 240pp.
Publication Date: May 2, 2006
or
Not Currently Available for Direct Purchase