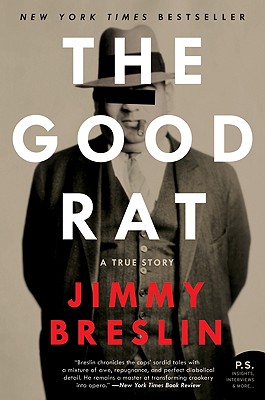 The Good Rat: A True Story (Paperback)
A True Story
Harper Perennial, 9780060856694, 270pp.
Publication Date: February 10, 2009
Description
In his inimitable New York voice, Pulitzer Prize winner Jimmy Breslin gives us a look through the keyhole at the people and places that define the Mafia--characters like John Gotti, Sammy "the Bull" Gravano, Anthony "Gaspipe" Casso (named for his weapon of choice), and Jimmy "the Clam" Eppolito--interwoven with the remarkable true-crime saga of the good rat himself, Burt Kaplan of Bensonhurst, Brooklyn, the star witness in the recent trial of two NYPD detectives indicted for carrying out eight gangland executions. Through these unforgettable real-life and long-forgotten Mafia stories, Jimmy Breslin captures the moments in which the mob was made and broken.
Praise For The Good Rat: A True Story…
"Breslin chronicles the cops' sordid tales with a mixture of awe, repugnance and perfect diabolical detail. He remains a master at transforming crookery into opera."
-New York Times Book Review

"The ineffable Breslin, the mob's Homer, may not have done much to ensure Kaplan's longevity, but he has surely granted him immortality."
-Boston Globe

"Bad cops, good crook, great story."
-USA Today

"Breslin is a writer of the heart. It's hard to name another author who demonstrates a better understanding of the passions of urban misrule."
-Playboy

"Completely sure of what he's doing, the author knows how to hook a reader."
-New York Observer

"Breslin put his notes to brilliant use in a colorfully nuanced depiction of Burt Kaplan. Kaplan is The Good Rat, and while Breslin doesn't put a gloss on his crimes, he uses him wisely and well to tell us once again about New York's underbelly. And, in such memorable terms."
-New York Daily News

"[The Good Rat] is Jimmy Breslin at his best."
-New York Times

"A great look at the ugly and anything-but-glamorous truth of organized crime. This is Breslin at his Runyonesque best."
-Rocky Mountain News

"The Good Rat tells us about the corkscrew workings of the criminal mind where Dostoevsky's Crime and Punishment left off."
-Nicholas Pileggi, New York Times bestselling author of Wiseguy

"Jimmy Breslin still hits the high notes...entertaining, insightful and 100% Grade-A Breslin."
-T.J. English, author of Paddy Whacked and The Westies

"Breslin returns to us from brain surgery intact, writing the way he writes, which is very good stuff indeed."
-Pete Dexter, National Book Award-winning author of Paris Trout and Paper Trails

"Smart and stinging—Breslin in fine form, which means a winner."
-Kirkus Reviews

"[Breslin's] writing, like the Mafia itself, breezily transitions from humorous to horrifying."
-Publishers Weekly
Advertisement