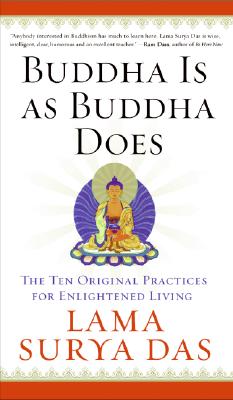 Buddha Is as Buddha Does: The Ten Original Practices for Enlightened Living (Paperback)
The Ten Original Practices for Enlightened Living
HarperOne, 9780060859534, 264pp.
Publication Date: February 26, 2008
Description
In the book you now hold, national bestselling author Lama Surya Das offers a thorough map to the richest treasure a human being can find--the Buddha's advice for living to your true potential. Appropriate for new seekers as well as experienced practitioners, and accompanied by lively anecdotes and practical exercises, this is one of the most accessible books to date on the ancient and timeless wisdom of the Buddha. Buddha Is as Buddha Does is for everyone who seeks to become a better person and share in the bounty of true Buddha nature.
Praise For Buddha Is as Buddha Does: The Ten Original Practices for Enlightened Living…
"A wonderful book for the soul."
-Caroline Myss, author of Entering the Castle and Anatomy of the Spirit

"Enough wit and wisdom to keep you entertained for a lifetime. Read it. Enjoy it. Practice it."
-Sam Keen, author of Fire in the Belly

"This book will guide and help readers to ease their suffering."
-Gehlek Rimpoche, author of Good Life, Good Death

"The immense potential of a life rooted in wisdom and compassion is made beautifully clear in this new offering."
-Sharon Salzberg, author of Lovingkindness: The Revolutionary Art of Happiness

"A book that will truly make a difference in your life."
-Cheryl Richardson, author of Take Time for Your Life and The Unmistakable Touch of Grace

"An easy-to-read guide for anyone looking to reach new heights of compassion and understanding."
-Sulak Sivaraksa, author of Conflict, Culture, Change: Engaged Buddhism in a Globalized World

"People of any faith will appreciate this contemporary reflection on ancient wisdom."
-Tenzin Wangyal Rinpoche, author of The Tibetan Yogas of Dream and Sleep

"A joy to read. Rich, nuanced, and above all, practical, as it illuminates the path of enlightend living."
-Joseph Goldstein, author of One Dharma: The Emerging Western Buddhism

"Anybody interested in Buddhism has much to learn here. Das is wise, intelligent, clear, humorous and an excellent teacher."
-Ram Dass, author of Be Here Now

"a solid and substantive work on the compassionate way. "
-Spirituality and Health magazine
Advertisement