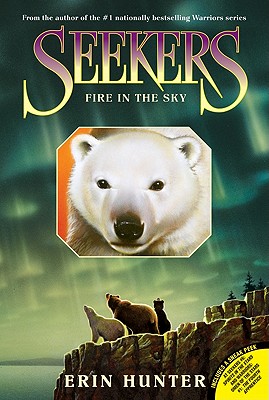 Seekers #5
Fire in the Sky
Paperback

* Individual store prices may vary.
Description
The spirits dance like fire in the sky. . . .
The three cubs—Kallik, Toklo, and Lusa—along with their shape-shifting companion, Ujurak, stand on the edge of the sea-ice under the blazing Northern Lights. The land has come to an end, but the bears' journey is far from over. Now they must put their trust in Kallik's paws, as she feels the ice pulling her out toward the ocean.
Life on the ice is more difficult than the bears imagined. While Kallik struggles to remember her polar bear roots, Toklo bristles in the unfamiliar territory and Lusa gets weaker by the day; black and brown bears don't belong on the ice. Meanwhile, Ujurak learns firsthand what lurks beneath the whorls and bubbles of the ice, and what he discovers will change everything.
Just when it seems like they'll never survive in the frozen wilderness, a mystical encounter with a bear spirit assures them that all will be well. But this strange vision leads to even more questions, and ultimately it might tear the bears apart—this time for good—as the next steps of their journey come into focus.
Praise For Seekers #5: Fire in the Sky…
"Hunter creates a richly sensuous world filled with cruelty, beauty, tenderness, savagery and just enough underlying legendary background to add mystery…fans of animal fantasies will haunt the shelves for the next volume."
— Kirkus Reviews

"These stories will be welcomed by the Warriors series' many fans."
— ALA Booklist

"The suspenseful conclusion will build in an eager audience for the next installment."
— Publishers Weekly
HarperCollins, 9780060871369, 288pp.
Publication Date: May 24, 2011
About the Author
Erin Hunter is inspired by a love of cats and a fascination with the ferocity of the natural world. In addition to having great respect for nature in all its forms, Erin enjoys creating rich mythical explanations for animal behavior. She is also the author of the Seekers, Survivors, Bravelands, and Bamboo Kingdom series.