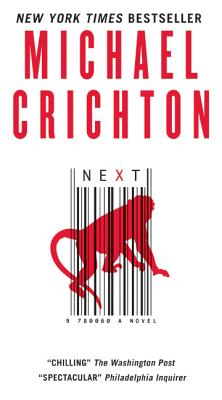 Next (Mass Market)
Harper, 9780060873165, 560pp.
Publication Date: October 28, 2008
Other Editions of This Title:
Digital Audiobook (11/27/2006)
Digital Audiobook (11/27/2006)
Hardcover (11/28/2006)
Paperback (2/5/2013)
CD-Audio (11/28/2006)
Paperback, Large Print (11/28/2006)
CD-Audio (11/28/2006)
Paperback (3/1/2012)
Paperback (10/1/2008)
Hardcover (12/1/2006)
* Individual store prices may vary.
Description
Michael Crichton, the #1 New York Times bestselling author of Jurassic Park, comes an astounding, eye-opening look at the world of genetics as it's happening now, told as only Michael Crichton can tell it, with lightening fast pacing and thrilling chases.
Welcome to our genetic world. Fast, furious, and out of control. This is not the world of the future—it's the world right now. Is a loved one missing some body parts? Are blondes becoming extinct? Is everyone at your dinner table of the same species? Humans and chimpanzees differ in only 400 genes; is that why an adult human being resembles a chimp fetus? And should that worry us? There's a new genetic cure for drug addiction—is it worse than the disease?
We live in a time of momentous scientific leaps; a time when it's possible to sell our eggs and sperm online for thousands of dollars; test our spouses for genetic maladies and even frame someone for a genetic crime. We live in a time when one fifth of all our genes are owned by someone else, and an unsuspecting person and his family can be pursued cross-country because they happen to have certain valuable genes within their chromosomes...
Devilishly clever, Next blends fact and fiction into a breathless tale of a new world where nothing is what it seems, and a set of new possibilities can open at every turn.
About the Author
Michael Crichton (1942-2008) was the author of the bestselling novels The Terminal Man, The Great Train Robbery, Jurassic Park, Sphere, Disclosure, Prey, State of Fear, Next and Dragon Teeth, among many others. His books have sold more than 200 million copies worldwide, have been translated into forty languages, and have provided the basis for fifteen feature films. He wrote and directed Westworld, The Great Train Robbery, Runaway, Looker, Coma and created the hit television series ER. Crichton remains the only writer to have a number one book, movie, and TV show in the same year.
Daniel H. Wilson is a Cherokee citizen and author of the New York Times bestselling Robopocalypse and its sequel Robogenesis, as well as ten other books. He recently wrote the Earth 2: Society comic book series for DC Comics. Wilson earned a PhD in Robotics from Carnegie Mellon University, as well as master's degrees in Artificial Intelligence and Robotics. He has published over a dozen scientific papers and holds four patents. Wilson lives in Portland, Oregon.
Praise For Next…
"NEXT is one of Mr. Crichton's more un-put-downable novels. Its emphasis is on excitement."
— New York Times

"[Crichton's] in top form with NEXT....There's a lot to like and to scare you."
— USA Today

"[NEXT] is a tribute to Crichton's storytelling skill...the docmentation he sprinkles throughout the narrative teases us with speculation."
— Los Angeles Times

"NEXT is a romp and a potboiler...a blockbuster science thriller...an entertaining read."
— Philadelphia Inquirer

"Under Crichton's imaginative scrutiny, body-part theft, the extinction of blonds and transgenic experiments...all loom on the horizon."
— People

"His plot, involving a score of main characters and a dozen different strands, defies summary but is completely brilliant."
— Daily Mail (London)

"[Crichton] invites a mass audience irresistibly into some of the Most Important Conversations We're Not Having."
— Time magazine

"Crichton creates a series of fascinating dramatic situations that hold a reader's attention right down to the last page."
— NPR (All Things Considered)

"Crichton addresses complex contemporary issues...into thrilling reads."
— Newsweek

"Crichton has created a series of vivid, thought-provoking morality plays, presenting key questions engendered by genetic research."
— Globe and Mail (Toronto)

"Crichton's latest techo-thriller raises fascinating ethical questions."
— Christian Science Monitor

"A compulsively readable beach book about the dawn of the biotech revolution."
— National Review

"You realize what [Crichton]'s fictionalizing could be happening now, not "Next." And that's what makes it all so terrifying."
— Pittsburgh Post-Gazette

"As entertaining as anything he has written since Jurassic Park."
— Dallas Morning News

"Read this book. It's enough to scare the DNA out of you."
— Baton Rouge Advocate

"NEXT will frighten, worry and amuse you, and keep you thinking long after its final words are read. Highly recommended."
— Bookreporter.com

"A cracking pace...fast-moving plot with highly detailed research."
— Sunday Telegraph (Australia)

"The writing is mentally sharp, with vignettes that make you wonder if you are reading satire or simply mild exagerration."
— Houston Chronicle

"A satirical thriller that will have bookworms glued to their armchairs."
— Denver Post

"(Crichton) is one of the most reliable purveyors of brain-engaged popular fiction at work today."
— Sunday Express (London)

"It is devilishly clever...thoroughly enjoyable."
— Aberdeen Press & Journal [Scotland]

"Crichton sets up mind-boggling scenarios. The pace and intrigue last to the final page."
— News of the World (UK)

"A complex and credible extension of present reality into the realm of the imagination. A highly readable novel."
— South China Morning Post

"NEXT is a page-turner, natuarlly; deft and dashing, eminently professional. "
— Daily Telegraph (London)

"[Crichton's] latest is in genetics and his literary success is assured."
— Mail on Sunday

"[Crichton] is a punchy, modern storyteller. NEXT is a popular thriller worth serious reading."
— Adelaide Advertiser

"A cracking dark tale about biotechnology and transgenics. Epic in style."
— Birmingham Post (UK)

"(Crichton) carouses through the landscape of scientific development, presenting one frightening possibility after another. Michael Crichton isn't for scaredybabies."
— Daily News

"Wonderful...NEXT's a regular romp."
— Evening Standard (UK)

"Provocative and entertaining."
— Calgary Sun

"NEXT is populated with blood-pressure-raising villains who will keep you turning the pages."
— Forbes