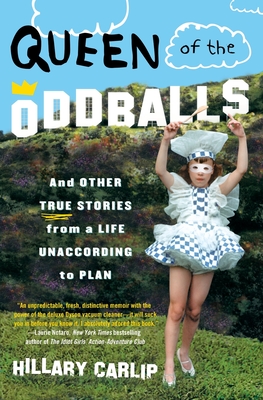 Queen of the Oddballs
And Other True Stories from a Life Unaccording to Plan
Paperback

* Individual store prices may vary.
Description
A hilariously offbeat memoir about an adventurous young woman's escapades as she defies conventions and transforms an ordinary Los Angeles life into a star-studded, extraordinary miracle of self-discovery.
Queen of the Oddballs forms a chronology of Hillary Carlip's habitual straying from roads more traveled -- from a wisecracking third-grader suspended from school for smoking (while imitating Holly Golightly) to a headline-making teen activist, juggler and fire eater, friend (NOT "fan") of Carly Simon and Carole King, grand prize-winning Gong Show contestant, cult rock star, and seeker of spiritual and romantic truths that definitely defy expectations.
Illustrated with ephemera -- from diary entries and photographs to a handwritten letter from Carly Simon -- Queen of the Oddballs presents a virtual time capsule of pop culture's last four decades and celebrates a creative life lived to the hilt.
Praise For Queen of the Oddballs: And Other True Stories from a Life Unaccording to Plan…
"[Ms. Carlip's] curriculum vitae reads like a Cliffs Notes version of American popular culture..."
— New York Times

"Carlip has lived a life that would make Leonard Zelig jealous."
— Entertainment Weekly

"Funny, endearing, and sweet for the soul, this is a lovable memoir."
— Bust Magazine

"[T]he charm... lies inher whimsical surrender to celebrity culture, balanced byher awareness of how silly it all is."
— The Advocate

"Quirky... hilarious... this unconventional tale of self-discovery offers an unforgettable ride."
— Pages Magazine

"An unpredictable, fresh, distinctive memoir ... it will suck you in before you know it."
— Laurie Notaro, NY Times bestselling author of The Idiot Girl's Action Adventure Club

"Colorful? She was a kid Auntie Mame! Her book should be mandatory reading for anybody contemplating fabulousness."
— Paul Reubens, Pee-wee Herman

"Hillary Carlip is the best kind of eccentric: Genuine, ballsy, funny and soulful. ... She deserves to be our queen."
— Beth Lisick, Author of Everybody into the Pool

"A hilarious and inspiring read for all of us who were too afraid to be ourselves. Or stalk Carole King."
— Jenny Bicks, Executive Producer, Sex and the City
Harper Paperbacks, 9780060878832, 288pp.
Publication Date: April 25, 2006
About the Author
Hillary Carlip, author of Girl Power, has written commentaries for NPR, and is a performer and artist. She is the creator of the acclaimed personal essay Web site freshyarn.com, and she lives in Los Angeles.